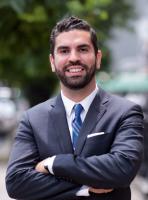 Mayor Bill De Blasio's rezoning process for East New York will include upgrades to existing infrastructure, thanks to efforts by Council Member Rafael Espinal.
In addition to the construction of 1,200 affordable housing units, the process will entail a complete overhaul of the Brooklyn neighborhood's mainstays, Atlantic Avenue, City Line Park, Lower Highland Park, and Sperandeo Brothers Park. The addition of crosswalks, pedestrian medians, over 100 trees, and a series of sidewalks with benches and bike racks to Atlantic Avenue will make the streets safer and more accessible for the area's residents. City Line Park, meanwhile, will be transformed into a green space, while the other two parks will receive new equipment. The municipality will install bioswales to absorb rainwater and reduce flooding, and the plan will further see the opening of a Workforce 1 Satellite Center to aid residents in searching for jobs.
Council Member Espinal pushed for these investments, stating last week that that any affordable housing plan must also include improvements to the oft-neglected community. East New York is the first of many planned targets under Mayor Bill de Blasio's push to build or preserve some 200,000 units of affordable housing. City Planning states that 50% of the Brooklyn neighborhood's housing units will be affordable, based on the median income in the locality. Under the rezoning, at least 39% of housing units will have monthly rates below $1,165 for two-bedroom units. 11% will be priced below $583 monthly.
Council Member Espinal claims he will continue to negotiate for further developments, including housing for seniors, a new community center and job creation in the nearby industrial business zone.