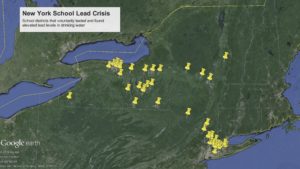 Lead In School Waters Map
The hot topic item that has been on our agenda is making it way through the legislative process.  Many schools have taken the liberty of performing there own water testing, at the tap, and drinking fountains.  The map above identifies areas throughout the state where they have already decided to perform water testing.  The table below shows, of those test results, which school districts, and schools, reported back with higher than the EPA's limit of lead contamination.
The problem does not end there though – as this clearly is not for all of the school in New York State.  Again, the NYLCV promotes, and supports, Sen. O'Mara and Assm. Lupardo for their sponsorship of the school lead bill, S7103A/A9687A, which would require schools to test for lead contamination and work efficiently and effectively to mitigate the problem, should contamination be found.  Allocating funds towards water testing is now more important than ever and should be at the top of the priority for every parent, educator, administrator, etc. for providing the proper health and development of our future generational leaders.
Long Island
School District
Town/City
Schools
Valley Stream School District
Valley Stream
Wheeler Avenue Elementary
Port Washington Union Free School District
Port Washington
John Jay Dailey Elem.
Locust Valley Central School District
Locust Valley
Syosset Central School District
Syosset
Bayliss Elementary School, Robbins Lane Elementary
Jericho Union Free School District
Jericho
Elwood Union Free School District
Elwood
Northport-East Northport School District
Northport
Dickson Ave, E Northport Middle, Northport High, Norwood Ave, Ocean Ave, Paluski Road
Commack Union Free School District
Commack
Burr Intermediate School, Cedar Road School, Indian Hollow Primary, Long Acres School, North Ridge Primary School, Old Farms School
Rolling Hills Primary School, Sagtikos School, Sawmill Intermediate School, Smith's Lane School, Wood Park Primary School, Commack Middle School, Commack High School, Hubbs Administration Building
Westchester
School District
Town/City
Schools
Yonkers City School District
Yonkers
School 9, School 21, School 22, School 31 and School 32
New Rochelle City School District
New Rochelle
George Davis Elementary School
Briarcliff Manor Union Free School District
Briarcliff Manor
Todd Elementary School and at Briarcliff High School
Tarrytown Union Free School District
Tarrytown
Blind Brook-Rye Central School District*
Rye Brook
Blind Brook High School*
 *affected fountain has been replaced

Hudson Valley

School District
Town/City
Schools
Clarkstown Central School District
Clarkstown
Felix Festa Middle School, Clarkstown North High School
Central Valley Central School District
Central Valley
Liberty Central School District
Liberty
Liberty Elementary School
Newburgh Enlarged City School District
Newburgh
Capital Region
School District
Town/City
Schools
Niskayuna Central School District
Niskayuna
 Glencliff Elementary School
North Country/Adirondacks
School District
Town/City
Schools
Amsterdam Greater City School District
Amsterdam
Barkley, Marie Curie and Tecler elementary schools
Dolgeville Central School District
Dolgeville
Granville Central School District
Granville
Central New York
School District
Town/City
Schools
Chittenango Central School District
Chittenango
Chittenango Middle School, Bridgeport Elementary School,
Syracuse City School District
Syracuse
Delaware Elementary School, the Academy of Science High School
Jordan-Elbridge Central School District
Elbridge
High School
Homer Central School District
Homer
Elementary, Junior High, Senior High,
Groton Central School District
Groton
High School, Elementary School
Ithaca City School District
Ithaca
HS, Lehman Alt.,caroline, fall creek, DeWitt Middle, Belle Sherman, Cayuga Heights, Northeast, Boynton Middle, Beverly Martin, Enfeild, South Hill
Trumansburg Central School District
Trumansburg
Lansing Central School District
Lansing
Binghamton City School District
Binghamton
Western New York
School District
Town/City
Schools
Elmira City School District
Elmira
Wayne Central School District
Wayne
Ontario Primary, Freewill Elementary, Middle School (315-524-1092)
Lyon Central School District
Lyon
Brighton Central School District
Brighton
the administration building, Brighton High School, Montessori School of Rochester
Rochester City School District
Rochester
Cobbles Elementary School
Bemus Point Central School District
Bemus Point
Maple Grove Jr.-Sr. High School
Bloomfield Central School District
Bloomfield
Bloomfield Elementary and High School
Churchville-Chili Cnetral School District
Churchville
Fairbanks Elementary
East Irondequoit Central School District
Irondequoit
Eastridge High School, Helendale Road, Laurelton-Pardee, Ivan Green, Durand-Eastman
Gates Chili Central School District
Gates
Neil Armstrong, Walt Disney, Brasser, Paul Road, Gates Chilli High School, Gates Chilli Middle School
Penfield Central School District
Penfield
Cobbles Elementary, Scribner Elementary, Indian Landing Elementary, Harris Hill Elementary, Bay Trail Middle School, Penfield High School
Fairport Central School District
Fairport
Minerva-DeLand HS, Martha Brown MS, Brooks Hill Elementary, Jefferson Ave. School, Baumer Administration Building