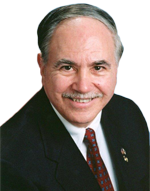 William Colton
Assemblyman William Colton is running for re-election, District 47
William Colton, representing District 47, has consistently been an advocate for environmentally conscious legislation throughout his twenty years as a member of the New York State Assembly.
The current Majority Whip, Assemblyman Colton serves on the Committee on Environmental Conservation and focuses a great deal of his legislative work on introducing green, sustainable practices into New York.  He introduced legislation (A07497) that would require moving to one-hundred percent renewable energy sources by the year 2030 and has co-sponsored numerous pieces of legislation that would encourage the use of clean, renewable energy.
The Assemblyman has had notable success in promoting recycling throughout New York, having many pieces of his legislation passed into law that require the recycling of cell phones, mercury switches, waste tires and other electronics such as televisions and computers.  He is the current sponsor of legislation that would establish minimum recycling requirements in solid waste plants, require New York to collect recyclable material at all city parks, playgrounds and historic sites and to require state agencies and contractors to recycle fifty percent of the waste generated on public works projects, among many others (A04713, A04713, A04679, A04672).
New York will continue to make strides towards achieving a greener and more sustainable way of life with Assemblyman Colton at the helm— his re-election is imperative not only for the environment but for all current and future constituents of the state.