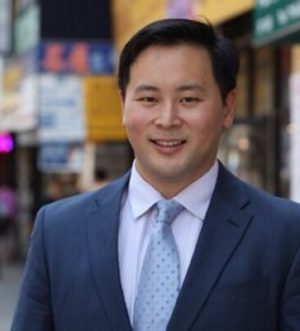 Ron Kim
Assemblyman Ron Kim is running for re-election, District 27
In Ron Kim's two terms in the State Assembly, he has been vocal about the need to increase transportation in New York, and to fix crumbling infrastructure. Both of these initiatives can have a large impact on Kim's constituents, and all of those living in New York State. These initiatives can also have a large and positive environmental impact.
This legislative session, Kim has sponsored a bill to provide that any municipality that is served by the MTA and initiates a comprehensive zoning plan that is designed in relation to its proximity and accessibility to a transportation hub, where more than 4 subway/bus lines converge, shall conduct an environmental impact review to determine if such transportation systems can assimilate increased ridership. He also sponsored a bill to establish an office of the transit riders advocate to receive and resolve complaints affecting mass transit users of facilities of the metropolitan transportation authority.
Assemblyman Kim has been a forceful advocate of investing enough funding to fix the infrastructure of Flushing Creek. Kim is committed to investing in better, smarter infrastructure that will protect our environment and improve our overcrowded and often unsafe transportation systems, and if re-elected, he will continue working hard to ensure that these initiatives are met.