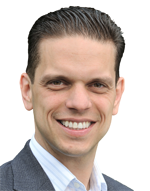 Angelo Santabarbara
Assemblyman Angelo Santabarbara is running for re-election, District 111
Assemblyman Angelo Santabarbara has consistently sponsored and voted for legislation to improve the environmental health of New York State since his election to the Assembly in 2012. His many ambitious sustainability initiatives earned him a place on the NYLCV's New Generation List in 2013 as one of the emerging leaders in conservation.
Understanding the importance of small farms to local economies and local health, this session Assemblyman Santabarbara sponsored a piece of legislation to assist small farmers with the daunting initial expenses of infrastructure, equipment, and practices (A.2417). He also introduced a bill to provide relief to small farms affected by natural disasters (A.2457). Both measures make owning a farm a more attainable goal and increase accessibility to local farm-fresh produce for communities. He sponsored bill A.2521 which establishes a small business energy assistance and advocacy services program to ensure that small businesses can take full advantage of conservation, efficiency and renewable energy programs and can obtain affordable energy. Always looking out for the health of New Yorkers, he co-sponsored a bill to regulate of toxic chemicals in children's products.
Each year Assemblyman Santabarbara works to ensure the Environmental Protection Fund is properly funded and will continue so if he is re-elected.