How Much Green Space does New York City have?
New York City is home to a massive urban canopy. The City has over 5 million trees made up of hundreds of species. With a land area of 190,651 acres, NYC is approximately 41% green, having over 77,701 acres of green spaces. These surfaces are comprised of either landscaped areas such as street trees and parks, or natural areas. Natural areas make up 11% of New York City (21,162 acres). To break it down further, the natural areas consist of 10,578 acres of forests, 4,864 acres of grasslands, and 5,719 acres of wetlands.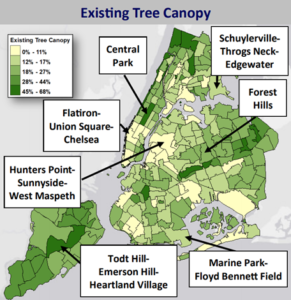 Why is Urban Forestry Important?
NYC's urban forests provides enormous benefits beyond merely aesthetic appeal. Urban greenery–our city's most valuable environmental asset–mitigates climate change, provides clean air, and contributes to the well-being of residents as well as the city's economy. Trees can cool down a city by 2 to 8 Celsius degrees. When planted near buildings, trees can cut air conditioning use by 30%, and reduce heating energy use by a further 20-50%. 
How Can We Preserve Our Urban Forest?
In New York City, the Natural Areas Conservancy is on the forefront of researching NYC's urban forest. Their team of scientists and experts have been studying the health of these natural areas in order to develop a plan for restoration and long-term sustainability. In the coming month, NAC will be releasing their long-term forest management plan. This much-needed framework will provide a path to a greener, healthier urban forest in New York City.
We strongly support the NAC's efforts to restore and preserve our urban forests, which are in alignment with NYLCV's goals to prioritize conservation of natural areas. We believe that preservation and protection of urban greenery play a crucial role, especially in a congested area like NYC. Not only will urban forests provide future generations with cleaner air and natural beauty in our city, but they will also contribute to lower energy costs, adaptation to climate change, better life quality of New Yorkers, and a greener economy.
Sources:
https://www.theguardian.com/cities/2016/oct/12/importance-urban-forests-money-grow-trees
http://www.naturalareasnyc.org/what-we-do#forests
https://www.theguardian.com/cities/2016/oct/12/importance-urban-forests-money-grow-trees
http://gis.w3.uvm.edu/utc/Reports/TreeCanopy_Report_NYC2010.pdf