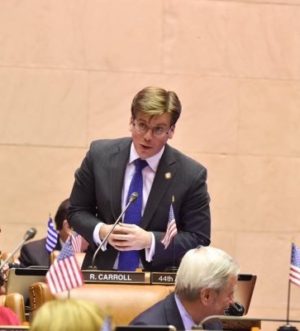 DISTRICT:

44

REGION:

New York City

GOVERNMENT BODY:

New York State Assembly

YEAR:

2018

CONTACT:

Campaign Website
Robert Carroll
State Assembly
Since his election in 2015, Robert Carroll has been dedicated to advancing a wide range of policies to protect natural resources and improve the health of communities statewide. As a member of the Committee on Environmental Conservation, he has been essential to the movement of critical pieces of legislation.
He received a 100% on the 2017 NYLCV Environmental Scorecard, indicating his commitment to a number of crucial initiatives such as lowering the threshold for elevated blood lead levels and facilitating donation of unused food from schools. He has been particularly supportive of renewable energy legislation, signing onto bills that prohibit homeowners' associations from restricting the installation of solar power systems as well as sponsoring tax incentives for solar electric generation. Furthermore, Carroll worked to build safer streets through encouraging penalties for traffic violations and defining the regulation of electric assisted bicycles. He has been an outspoken advocate for congestion pricing and is dedicated to fully funding the MTA to upgrade mass transit.
If re-elected, Carroll will remain a diligent leader in pushing for the preservation of green spaces, disclosure of toxic chemicals and the incorporation of renewable energy infrastructure.