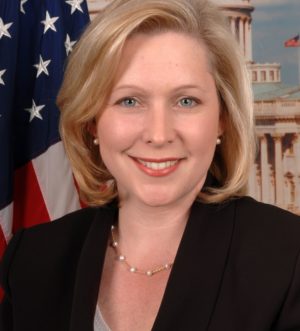 DISTRICT:

State Wide

REGION:

Federal

GOVERNMENT BODY:

U.S. Senate

YEAR:

2018

CONTACT:

Campaign Website
Kirsten Gillibrand
US Senate
Since her election in 2010, U.S. Senator Kirsten Gillibrand has made addressing environmental concerns one of her top priorities. Across her 8 years in this office, she has earned an NYLCV lifetime score of 95% and this past year received a perfect 100%. As a member of the U.S. Senate Committee on Environment and Public Work as well as the Committee on Agriculture, Nutrition, and Forestry, she has assisted in the passage of many pieces of legislation crucial to protecting our health and environment.
Responding to the recent political climate, Gillibrand fought hard against efforts to undermine carbon emission reduction standards and opposed the confirmation of public officials who continuously deny climate change. Working to safeguard New York's natural resources, she advocated to protect the Great Lakes from invasive species, enact the Finger Lakes National Heritage Area Study Act and extend the highland conservation efforts. She has been an additional champion on clean water, demanding cleanups in Hoosick Falls and Newburgh while also sponsoring the Long Island Sound Restoration and Stewardship Act, the establishment of a grant program for drinking and wastewater infrastructure and more stringent standards on contaminant levels. Further initiatives to protect New Yorkers include her leadership on the bipartisan effort to ban microbeads and her dedication to providing support and compensation to those whose property was damaged by Superstorm Sandy and Hurricane Irene.
Looking to the future, Gillibrand will remain a staunch promoter of food and nutrition assistance programs, investments in the state's farmers and agriculture and incentives for the adoption of renewable energy.