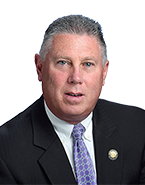 DISTRICT:

108

REGION:

Capital Region

GOVERNMENT BODY:

New York State Assembly

YEAR:

2018

CONTACT:

Campaign Website
John McDonald
State Assembly
John McDonald, elected to represent the 108th district of the State Assembly in 2012, has been a strong supporter of policies that work to protect our environment, health, and safety.
In 2017 McDonald received an 81% on NYLCV's State Environmental Scorecard voting in favor of various bills from the New York City Carryout Bag Fee Moratorium (A4883) to Disposal Sites Operated by Pharmacies bill (A387B).  Additionally, as the acting President of Marra's Pharmacy, McDonald has spearheaded initiatives in the community relating to disposal sites by implementing a drug take back program.
Recently, McDonald has been a proponent of pushing for the Volkswagen settlement funding to be used for electric transit upgrades and directing funding in the city of Watervliet to assist in developing its own, now running, anaerobic digester.
If re-elected, McDonald will continue to tackle environmental issues and advocate for drug take back programs.