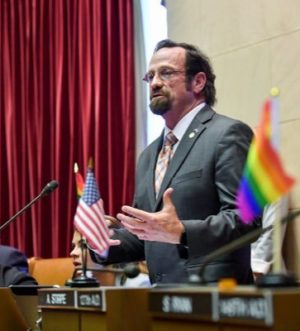 DISTRICT:

138

REGION:

Central New York

GOVERNMENT BODY:

New York State Assembly

YEAR:

2018

CONTACT:

Campaign Website
Harry Bronson
State Assembly
Since his election to the State Assembly in 2010, Harry Bronson has been committed to ensuring the allocation of adequate funds for a variety of environmental initiatives, from programs that reduce food waste to preserve the state's resources and ecosystems.
He has backed $2.5 billion for Clean Water projects, including grants for upgrading municipal water infrastructure and financing septic tank replacements, in addition to funding many measures to conserve natural resources, such as limiting nitrogen fertilizer use, funding the eradication of invasive species, and addressing algal blooms. He has prioritized environmental resilience, voting for A06282, which gives the Department of Environmental Conservation the authority and jurisdiction to better protect New York's wetlands. Bronson also supports the establishment of the New York State Climate Action Council, who will use their expertise to advise policies on environmental justice, labor and regulations.
Looking forward, Bronson will continue vocalizing the need for renewable energy use, as he did with incentives for electric vehicle  charging, geothermal energy systems and biofuel home heating oil. He will promote transparency and accountability, urging the Department of Environmental Conservation to update and publish lists of chemicals of concern and the Department of Health take action when areas of high risk lead poisoning have been designated.