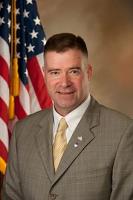 New York Representative Chris Gibson is leading the charge for environmentally-conscious Republicans.
The congressman from New York's 19th District drew up a resolution recognizing the need to fight human-caused climate change. His efforts have earned ten Republican co-sponsors, including fellow New Yorkers Elise Stefanik and Richard Hanna, at a time when many party officials still insist on denying the well-documented phenomenon.
Although the bill does not name any particular strategies or legislation for combating climate change, Gibson hopes to sway his party into cooperation with future efforts. Gibson claims that environmental goals fall within the scope of conservative positions, arguing that climate change will have myriad adverse effects on American workers, particularly the farming community, which heavily populates his district.
"If conservation isn't conservative, then words have no meaning at all," he said in an interview last week. "Part of being conservative is judicious conservation of resources, both man-made and natural."
The move comes on the eve of Pope Francis' address to Congress, where he is expected to speak on environmental issues.
GOP leaders have proven reluctant to discuss the issue of climate change. House Speaker John Boehner has refused to comment on the issue, while other prominent voices such as Ted Cruz have denied it altogether.
Gibson has earned widespread acclaim from environmental groups for his efforts. In 2014, he received a pro-environment rating from the League of Conservation voters for the first time in his career. He received the highest score of any Republican in the United States Congress in 2014.