Our New York City Cocktail Party brings together over 300 elected officials, policymakers, businesses, community groups, and grassroots community members. Don't miss your opportunity to celebrate the progress we've made for our environment this year. Become a sponsor or purchase your tickets today!
We are excited to recognize the International Union of Operating Engineers (IUOE) Local 94 and Bombardier for their commitment to environmental progress.
November 18th 6 PM – 8 PM
New York Yacht Club
37 West 44th Street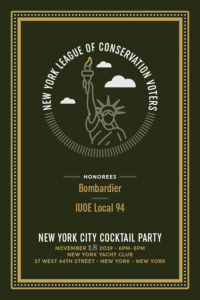 We hope you can join us to celebrate major legislative wins for the environment that include enacting the nation's strongest climate law, expanding micromobility options, and passing congestion pricing. Become a sponsor or purchase tickets today!