Our New York City Cocktail Party brings together over 300 elected officials, policymakers, businesses, community groups, and grassroots community members. Don't miss your opportunity to celebrate the progress we've made for our environment this year. Become a sponsor or purchase your tickets today!
We are excited to be joined by Lieutenant Governor Kathy Hochul as our Keynote Speaker. We are also honored to recognize Bombardier and Kuba Brown and the International Union of Operating Engineers (IUOE) Local 94 for their commitment to environmental progress.
November 18th 6 PM – 8 PM
New York Yacht Club
37 West 44th Street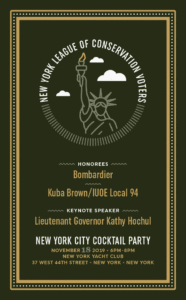 Under the leadership of Lieutenant Governor Hochul, this year was historic for the environment. More policies were enacted than we have seen in a generation. As the White House continues to overturn environmental progress, states like New York are leading the way. The centerpiece of this legislative session was the enactment of the Climate Leadership and Community Protection Act, the strongest climate legislation in the country, which will be a model for other states to follow. While the Trump Administration opens federal waters for drilling, New York fought back by enacting a ban on drilling off state waters, which will protect marine life and our vital waterways.  And, following decades of negotiation, New York finally passed congestion pricing, which will reduce emissions from the transportation sector – the #1 contributor to climate change. 
One of our top priorities is greening our transportation sector and expanding low-emission transit options. Bombardier is helping to achieve this by creating innovative and eco-efficient mobility solutions. New Yorkers commute on their subway cars, commuter trains, and airport transit systems every day. Bombardier is listed in the top 25 of the 2019 Global 100 Most Sustainable Companies in the World Index and appears there as the highest-ranked transportation company.
We are also committed to reducing emissions from New York City's largest contributor to climate change – buildings. After years of advocacy, this April the New York City Council passed legislation which established emission reduction targets for large buildings. The bill will spur demand for clean energy and energy efficiency retrofits. IUOE Local 94 will be on the frontlines of these efficiency retrofits – its engineers are responsible for the operation and repair of the Heating, Ventilation, and Air Conditioning systems in buildings. 
We hope you can join us to celebrate this work, as well as major legislative wins for the environment that include enacting the nation's strongest climate law, expanding micromobility options, and passing congestion pricing. Become a sponsor or purchase tickets today!
Thank you to our event sponsors (list in formation):
Benefactors 
Bombardier
Kuba Brown/IUOE Local 94
Hosts
Brookfield Properties
Langan
Evan Mason and Garrard Beeney
Patrons
Coalition for Renewable Natural Gas
Con Edison
Andrew H. Darrell
Delta
Marjorie L. Hart
Helix Ravenswood LLC
Local 14-14B International Union of Operating Engineers
NY Hotel Trades Council & Local 6, UNITE HERE
The Scotts Miracle-Gro Foundation
Stacey Braun Associates, Inc.
Vornado Realty Trust
Supporters
Abrams Fensterman LLP
Anbaric
Atlantic Aviation
Aliza R. Cinamon/Proskauer Rose LLP
Connelly McLaughlin & Woloz
Edward F. Cox
Constance Hoguet Neel
Robert J. Kafin/Proskauer Rose LLP
William Lynn, Business Manager IUOE Local 30
Mercury
Pitta Bishop & Del Giorno LLC
Gail S. Port/Proskauer Rose LLP
Real Estate Board of New York
Realty Advisory Board on Labor Relations Inc.
Sam Schwartz Consulting
Schultheis & Panettieri LLP
Tunnel Hill Partners, LP
Rosalind Walrath
Charles Warren
Waste Management
Friends
Able Services
Bender and Cantone Consulting Inc.
Boston Properties Inc.
David E. Bronston/Phillips Lytle
Carter Ledyard & Milburn LLP
Eduardo Castell/MirRam Group
Robert B. Catell
The Chasin Group Institutional Consultants at UBS
Congress Asset Management Company
Brian Dumont, Dumont Wealth
Entergy/Indian Point Energy Center
Bennett C. Fradkin, Fradkin & McAlpin Architects
Thomas P. Giblin/Operating Engineers Local 68
Robert Heenan, Business Manager IUOE Local 542
The Hilaria and Alec Baldwin Foundation
Kasirer LLC
Mike Klein
Lazard Asset Management
Lisa Linden/LAK PR
Manatt Phelps & Phillips, LLP
Matrix New World Engineering
The New York Building Congress
The New York Oil Heating Association
Patrick B. Jenkins & Associates
Patrick M. Murphy
Partnership for New York City
Plaxall
ROUX
Ana Rua/Crown Castle
Rudin Management Company
Steven C. Russo/Greenberg Traurig LLP
Ronald Sikorski, Business Manager IUOE Local 12
Silverstein Properties
Lise Strickler and Mark Gallogly
John C. Thomas, CEPO & Sr. Managing Dir./Rothschild & Co.
TLM Associates
Verizon
Williams