The Governor and State Legislature are in the 11th hour of budget negotiations and our environmental priorities are on the line. There's still time for us, collectively, to influence the outcome by making our voices heard in unison. Time is of the essence and so we urge you to take action now on the following items to ensure our top environmental priorities make it in the FY24 budget.   
Take action on Clean Buildings.
Take action on the Packaging Reduction and Recycling Infrastructure Act.
Take action on Cap and Invest.
We were pleased that many of our environmental priorities were included in both the Governor's and the Legislature's budget proposals and remain on the table as we enter the homestretch of negotiations. Here's where it stands:
Both houses of the legislature support a major NYLCV priority called UpgradeNY, which calls for all State-owned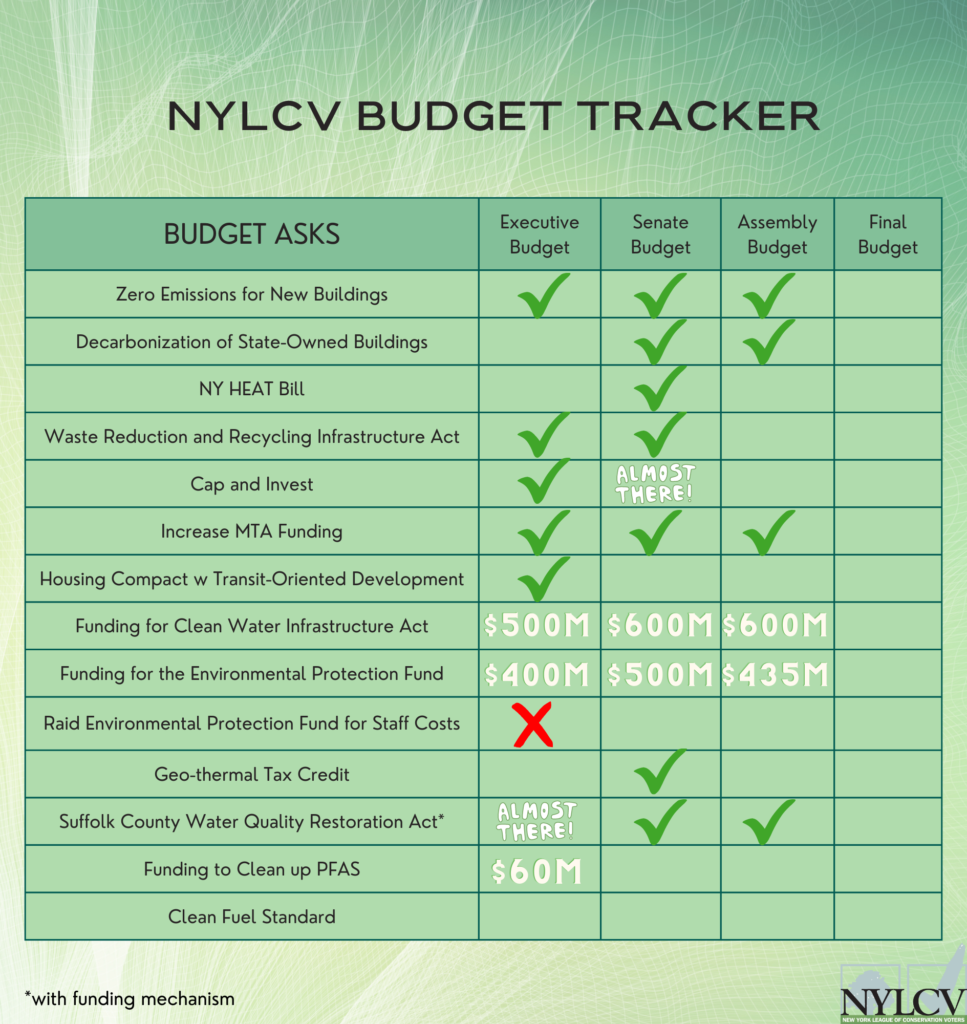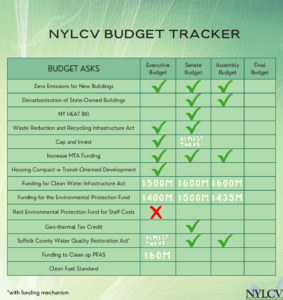 buildings to decarbonize by 2040, with strong union labor provisions and direct hiring in disadvantaged communities.
NYLCV is a leading member of the UpgradeNY coalition, which also includes Align, the Sierra Club, WE Act, the AFL-CIO, New York State Building and Construction Trades Council, and the pipefitters union, who, together are urging the governor and legislature to come to dedicate $115 million in funding for Thermal Energy Networks to decarbonize state-owned buildings, which could include most of the state's SUNY campuses, the Harriman Office Campus in Albany and the Empire State Plaza, among others. 
"Thermal energy networks (TENs) are basically geothermal but not just for one building. They're connecting multiple buildings together so that we are taking advantage of waste heat that's generated in one building, say like a data center, and moving to another building in the center, say an apartment building," NYLCV President Julie Tighe told Capital Tonight.
John Murphy, International Representative for the United Association of Plumbers, Pipefitters, and Sprinkler Fitters in NY, recently appeared on the Union Strong podcast to discuss thermal energy networks and their role in decarbonizing state-owned campuses and facilities while creating a pipeline to union jobs
NYLCV supports the NY HEAT Act, or the Home Energy Affordable Transition Act, which will push gas utilities carefully in a new direction, enabling them to comply with New York's Climate Act while helping their customers switch to affordable zero-emissions heating and cooling. The bill will ensure energy affordability by capping energy bills for low-income customers, avoiding billions of dollars in new gas infrastructure investments, and investing in energy saving home improvements.
The final pillar of our Clean Buildings push is the All-Electric Buildings Act, which will ban on-site combustion of fossil fuels in most new construction before the end of this decade. This would avoid future greenhouse gas emissions, improve public health, and save owners and tenants of newer buildings money on their heating bills.
"We are a national leader on this. All eyes are on us and a lot of other states … are looking to what New York does," NYLCV Policy Director Pat McClellan recently told Politico about what would be the first-in-the-nation measure to phase out fossil fuel combustion equipment in most new buildings. "If we prove it can be done and we have the political will to do this, it's going to open the floodgates for other states to take action."
Recent coverage from Spectrum and the Times Union notes that momentum is building for this measure as budget negotiations continue.
Additionally, both the Governor and the State Senate  have included a second major NYLCV priority, the Waste Reduction and Recycling Act. This is critically important to reducing waste and supporting municipal recycling programs.
"To achieve our goal of zero waste, New York State must adopt policies to create a circular economy that prioritizes recycled and recyclable materials and incentivizes using less packaging in the first place," said Tighe. "That is why the Packaging Reduction and Recycling Infrastructure Act is one of NYLCV's top priorities in 2023 and why we urge the Legislature and Governor to come together to pass a bill that sets strong minimum rates for diversion, recycled content, and waste reduction, cuts toxic chemicals in packaging and makes producers responsible."  
The New York State budget process uses what's called an "executive budget model," whereby the Governor proposes a budget and then the Legislature offers budget amendments through a committee-analysis process. Following negotiations between the Governor's office and the state Legislature, the Assembly and the Senate must approve a budget. The fiscal year runs April 1-March 31.
We believe the proposed budget, with the amendments, if enacted, is a significant step forward in our state's effort to fight climate change. We think some additional work and compromise still needs to be done.
Among our priorities, here's where we stand:
We are pleased both the Governor and the Legislature are prioritizing funding increases for public transportation, including NYC's MTA, which will reduce vehicular traffic and thereby reduce carbon emissions. We urge all parties to come to an agreement on funding sources and specific priorities.

We are pleased that all parties are prioritizing "smart" growth plans to develop much needed affordable housing. However, we urge the Legislature to accept the Governor's proposal to develop much of the housing within walking distance of public transportation. 

We are pleased that all parties are discussing the important "cap and invest" program. NYLCV has voiced support for this program, so long as it includes more details and guardrails. Cap and Invest uses market forces to cap greenhouse gas emissions, generate funds from polluters and then reinvest those funds in renewable energy, energy efficiency, and clean transportation,  which, in turn, creates green jobs. We believe a Cap and Invest program must include:

at least 40% of all funds need to invested in disadvantaged communities

labor standards for projects funded with cap and invest

guidelines about which programs can be funded with cap and invest, including renewable energy, rebates for consumers, just transition programs, and clean transportation.

We are also pleased the current budget proposal includes $400 million to help make a  transition to clean energy affordable for homeowners; $500 million for the Clean Water Infrastructure Act; and $60 million to clean up "forever chemicals," to eliminate contamination and provide clean drinking water for all New Yorkers.
NYLCV's full analysis of the Governor's budget proposal can be found here, and our full analysis of the Legislature's budget amendments can be found here. 
A detailed summary of the Governor's overall $227 billion budget for FY 2024 can be found here, and the Legislature's proposed budget amendments are detailed here. 
As the state finalizes next year's budget, we look forward to working with Gov. Hochul and the state Legislature to make sure the environmental needs and priorities of all New Yorkers are met.
Remember, take action now on the following items to ensure our environmental priorities make it in the FY24 budget:
Take action on Clean Buildings.
Take action on the Packaging Reduction and Recycling Infrastructure Act.