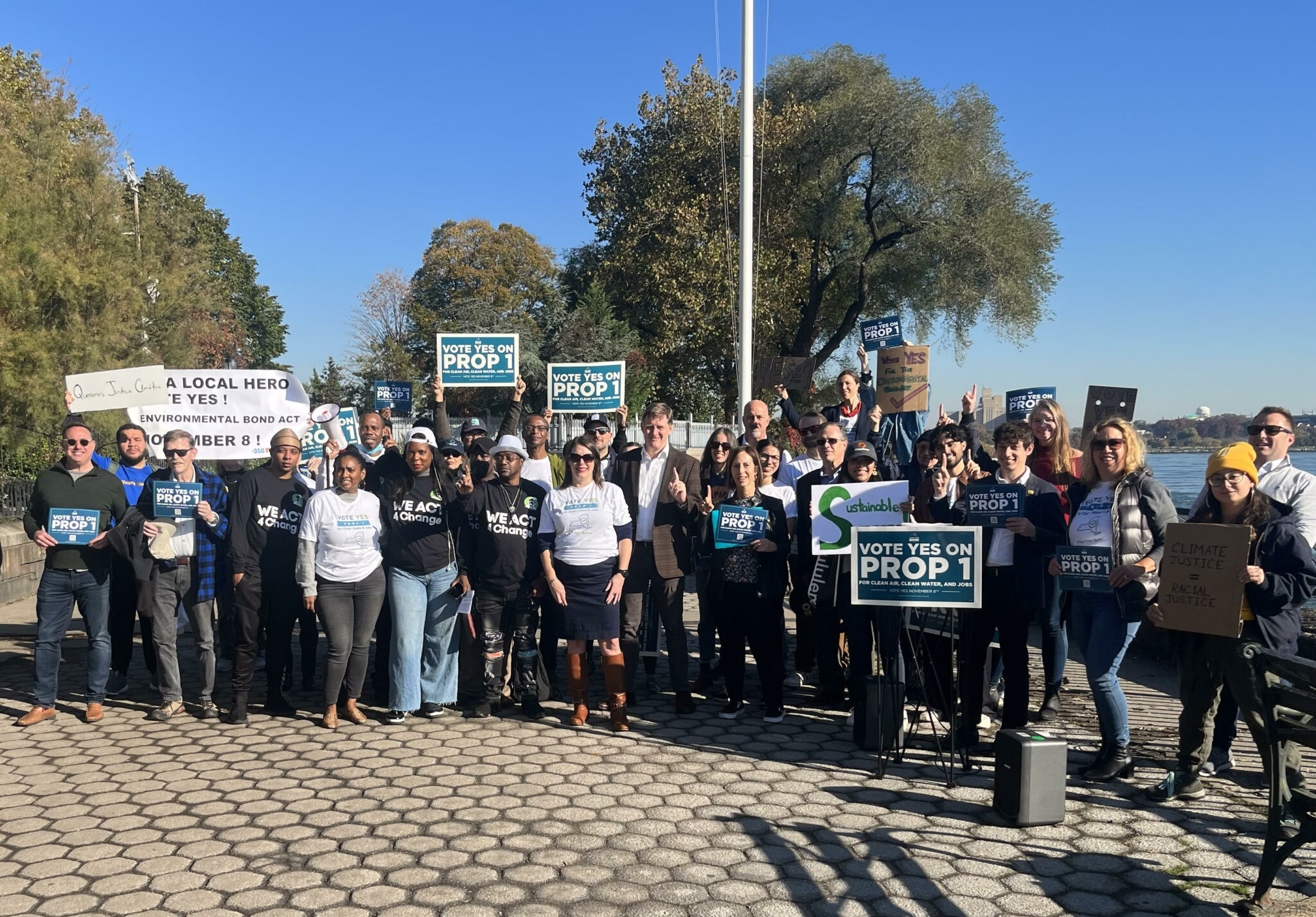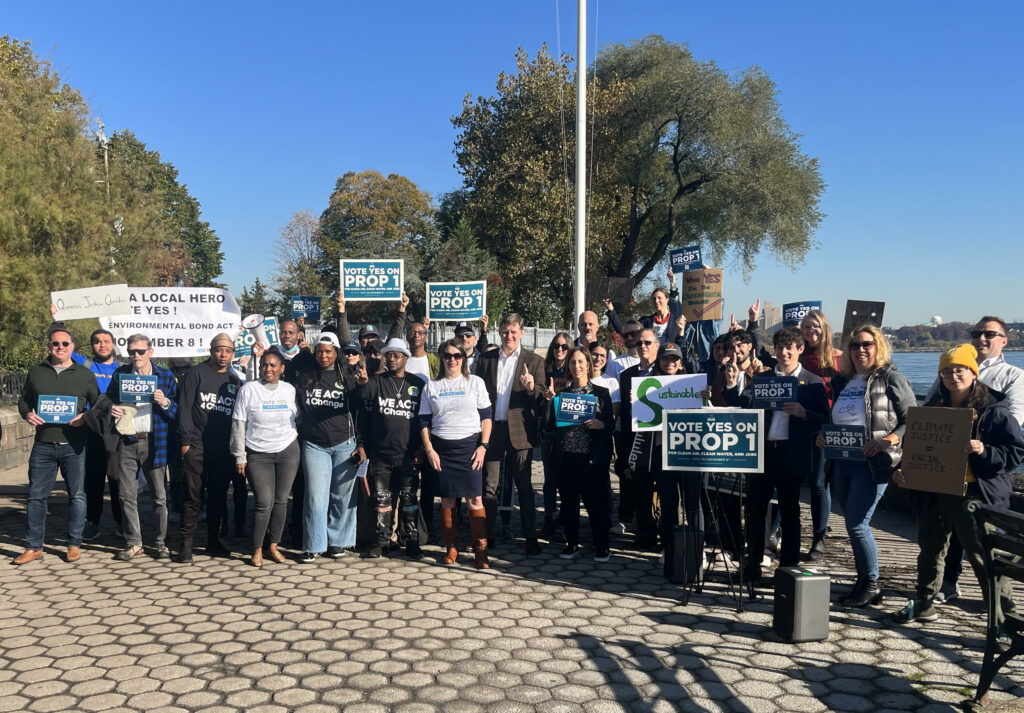 New York State Laborers, League of Women Voters, and other civic and advocacy groups joined the New York League of Conservation Voters, WE ACT for Environmental Justice, Trust for Public Land, and other environmental groups on November 3 to demonstrate support for the Clean Water, Clean Air, and Green Jobs Bond Act (Proposition 1) and urge New York voters to vote 'yes' on November 8.
Speakers at the rally, which included Julie Tighe, Vincent Albanese, Pamela Stewart-Martinez, Kai Rosenthal, and Carl Strickland–gathered on the East River waterfront to voice the importance of Clean Water, Clean Air, and Green Jobs Bond Act (Bond Act) as a once-in-a-generation opportunity to protect clean drinking water, modernize infrastructure, and improve quality of life across the state. The measure will help communities throughout New York make critical upgrades to water and sewer lines, replace lead pipes, and maintain water treatment plants to ensure that our drinking water is safe and clean. If approved by voters on the general election ballot on November 8, the Bond Act would support nearly 100,000 local, family-sustaining jobs across multiple sectors, from construction, to healthcare, to retail, and more. 
The rally in Carl Schurz Park in Manhattan came on the heels of several other rallies in support of the Environmental Bond Act, in Buffalo, Hudson Valley, Albany, and Long Island. 
Several editorial boards across the state have come out to urge their readers to vote yes on Proposition 1, including the New York Daily News, Newsday, Times Union, East End Beacon, and Buffalo News.
More information about the Bond Act can be found here: Vote Yes For Clean Water and Jobs Coalition
"With the Environmental Bond Act on the ballot, voters have a once-in-a-generation opportunity to protect our environment and improve the quality of life in every corner of the state. With investments in everything from water infrastructure and lead service line replacements, from flood protections to street trees, and from community gardens to clean school buses—all while supporting thousands of good-paying jobs and investing in disadvantaged communities–the Environmental Bond Act is essential to creating a healthier, more prosperous future for all New Yorkers," said Julie Tighe, President of the New York League of Conservation Voters. 
"Approving this bond act will prove to be one of the most critical steps we can take as a state in ensuring we begin our preparation to mitigate and deal with the impacts of climate change. Prop 1 will certainly make a down payment on that investment, but specifically for the Laborers' it will create thousands of good paying, local, union jobs in the process. It is a rare opportunity that we are presented with an opportunity so transformative that it both helps our environment at the same time creates the middle class careers this state and country desperately need. We urge every New Yorker to turn over their ballot and vote YES on Prop1," said Vincent Albanese, Director of Policy and Public Affairs, New York State Laborers' Organizing Fund. 
"The League of Women Voters of NYS supports New York's goal to address the climate emergency, improve water and air quality, reduce flooding, preserve open space and restore and protect wildlife habitat. These goals necessarily involve multiple projects to upgrade infrastructure and reduce greenhouse gas emissions to make New York more resilient. It is in New York State's best interest to have sources of funding to accomplish these ambitious and essential goals. By voting "yes" on election day to the Environmental Bond, New Yorkers will authorize New York State to have available the option of issuing bonds to investors to fund many of the essential projects needed to achieve these goals," said Laura Ladd Bierman, Executive Director, League of Women Voters of New York State. 
"The Clean Water, Clean Air, Green Jobs Bond Act provides New Yorkers with a once-in-a-generation opportunity to vote yes to safeguard clean drinking water, mitigate climate change impacts such as dangerous flooding, and preserve forests and wetlands, while creating good jobs. When voters head to the polls, they should be sure to vote yes to protect and preserve the environment for future generations," said Megan Ahearn, Program Director for The New York Public Interest Research Group. 
Climate Reality Project NYC strongly supports the 2022 Environmental Bond Act and urges all New Yorkers to remember to turn their ballots over and vote yes. In the face of increasing impacts on our state by climate change and aging infrastructure, the Act's $4.2 Billion is slated to help New York communities with restoration and flood risk reduction, water quality and resilient infrastructure, open space land conservation and recreation, climate change mitigation, and environmental justice. New York last passed an environmental bond act in 1996. Given the strong support by Governor Hochul (who increased the act to $4.2 billion) and the state legislature, this is an opportunity we cannot afford to miss. Vote Yes on the 2022 New York State Environmental Bond Act," said Philip Kahn, Policy Director for Climate Reality Project NYC. 
"As we recently passed the anniversary of two storms that devastated communities in the past ten years, Hurricanes Sandy and Ida, it has become clear that New Yorkers are already paying the extreme costs of climate change. The 2022 Bond Act is an opportunity to reduce those costs, protect our communities and natural resources and also create good jobs" said Kate Boicourt of Environmental Defense Fund Action. This November, New Yorkers have the opportunity to vote to secure a more safe, prosperous and healthy future for our entire state."
"Waterfront Alliance is proud to support the Clean Water, Clean Air, and Green Jobs Environmental Bond Act on the November 8th ballot. With funding toward resilient infrastructure, restoration and flood risk reduction, and open space conservation and recreation, this Bond Act would unlock $4.2 billion across the State of New York. Most importantly, 35% of these funds would be dedicated to disadvantaged, environmental justice communities, who for too long have faced disproportionate climate impacts. We are thrilled to be here today to highlight the significance of this funding, and how it can help New York leverage additional funds through federal infrastructure dollars. New York faces a pivotal moment to act on climate resilience and we must take immediate action to protect our communities, infrastructure, and ecosystems," said Courtney Koening Worrall, President and CEO of the Waterfront Alliance. 
"In the two decades since the last Bond Act, New Yorkers have seen how climate change has made flooding in our city more extreme and also how vital parks and open space were during the Covid-19 pandemic. We now have a once-in-a-generation opportunity to make major investments in transformational climate-ready infrastructure that will leverage federal funding to create local jobs and new park space, and TPL is proud to partner with groups across the state to advocate for such a historic measure to improve the quality of life for all New Yorkers," said Adam Ganser, Executive Director, New Yorkers for Park. 
"The Environmental Bond Act will provide solutions to help alleviate communities from environmental burdens such as heavy truck pollution, flooding, and lack of clean water. From the Bronx to Glen Cove, the state would receive much-needed funding for climate change mitigation, restoration and flood risk reduction, open space conservation and recreation, water quality improvements, and green infrastructure. Let's encourage our friends and neighbors to vote YES on Prop 1 on November 8 and take hold of this cleaner and healthier future for all New Yorkers," said Alex Rodriguez, environmental justice specialist at Save the Sound. 
"In the midst of difficult national and international circumstances, New York's Environmental Bond Act would bring a host of positive and much-needed developments to our state." "People all over the state would have cleaner water and air, expanded opportunities for good jobs, more protection from floods and other weather disasters, new parks, and more locally produced renewable energy. We at 350Brooklyn are looking forward to an overwhelming "yes"," said Sara Gronim, co-leader of 350Brooklyn.
"We must use the tools available to us to invest in the betterment of our environment. It is the most important investment we can make," said Kara Meyer, Managing Director of +POOL. 
"Of all the essential work that will be enabled by the Environmental Bond Act, perhaps the most important is something too many of us take for granted: clean drinking water. At least $650 million will be invested in upgrading and updating sewer systems and water treatment plants, fighting stormwater runoff pollution, and replacing lead pipes, all of which will protect access to clean drinking water for residents of New York City and across New York State," said David P. Ansel, Regional Director of Water Protection, Save the Sound.