Our Capital Region Cocktail Party brings together over 100 elected officials, policymakers, businesses, community groups, and grassroots community members. Don't miss your opportunity to celebrate the progress we've made on our environment this year. Become a sponsor or purchase your tickets today!
November 7th, 6 PM – 8 PM
Cornerstone at the Plaza
S Mall Arterial
Albany, NY 12210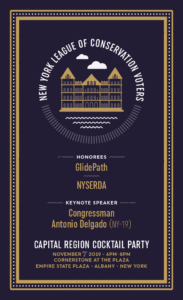 We are excited to recognize GlidePath Power Solutions and the New York State Energy Research and Development Authority (NYSERDA) for their work in expanding clean and renewable energy – one of our top priorities.
GlidePath, a national leader in clean energy development, operates wind, solar, and storage projects across the U.S. Here in New York, they are developing battery storage facilities that will create a stronger electric grid while helping the state reach its clean energy goals. GlidePath engages with local communities and officials to design projects that create maximum benefits with a minimal impact on the environment.
NYSERDA advances innovative energy solutions to improve our environment. The authority partners with private and public sector organizations to provide funding and technical expertise to New Yorkers. It implements programs that focus on increasing energy efficiency and renewable energy, and supports clean energy innovation–all with a goal to reduce reliance on fossil fuels.
U.S. Rep. Antonio Delgado (D-NY 19th District) will be our keynote speaker.  As the White House continues to roll back environmental protections, the U.S. House of Representatives is working to move us forward thanks to the help of Rep. Delgado, who recently introduced the Green Jobs and Opportunity Act to prepare today's workforce for the shift to a clean economy. This year started with a historic agreement on the Land & Water Conservation Fund. Both houses of Congress passed a permanent re-authorization of the fund, which invests in projects from wildlife reserves to public parks and beaches. Later, the House passed the Climate Action Now Act, which would require the U.S. to fulfill its original commitment to the Paris Climate Agreement. We are confident that Congressman Delgado will continue to be an environmental champion in Congress.
We hope you can join us to celebrate this work, as well as major wins for the environment in the state government that include enacting the nation's strongest climate law and legislation to green our transportation sector. Become a sponsor or purchase tickets today!
Thank you to our event sponsors (list in formation):
Benefactor
GlidePath Power Solutions
Host 
Cypress Creek Renewables
Patrons 
Lynelle Bosworth/Greenberg Traurig LLP
Brown & Weinraub, PLLC
Hodgson Russ LLP
Nixon Peabody LLP
Transmission Developers, Inc.
Supporters 
Danskammer Energy
Amy Durland
Reid, McNally & Savage, LLC
Verizon
Whiteman Osterman & Hanna LLP
Young/Sommer LLC
The Roffe Group, P.C.