Our Capital Region Cocktail Party brings together over 100 elected officials, policymakers, businesses, community groups, and grassroots community members. We are honored that U.S. Rep. Antonio Delgado (D-NY 19th District) will be our keynote speaker!  Don't miss your opportunity to celebrate the progress we've made on our environment this year. Become a sponsor or purchase your tickets today!
November 7th, 6 PM – 8 PM
Cornerstone at the Plaza
S Mall Arterial
Albany, NY 12210
We are excited to recognize GlidePath Power Solutions and the New York State Energy Research and Development Authority (NYSERDA) for their work in expanding clean and renewable energy – one of our top priorities.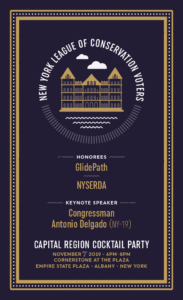 We hope you can join us to celebrate major wins for the environment in the state government that include enacting the nation's strongest climate law and legislation to green our transportation sector. Become a sponsor or purchase tickets today!