More and more, people are becoming aware of the devastating effects of climate change and are making personal choices to live more sustainably. In order to affect change at the necessary scale, we must go beyond individual behavior and ensure elected officials and public policy prioritize environmental protection.
The NYLCV Emerging Leaders Program seeks to bridge the divide between environmentally conscious individuals and civically engaged voters. The program provides a community for early/mid-career professionals to connect and become more engaged with New York's environmental sector.
Comprised of a diverse group of professionals from civic, business, and nonprofit backgrounds, Emerging Leaders at NYLCV enjoy events throughout the year, with opportunities to discuss the environmental issues in New York that matter most to them.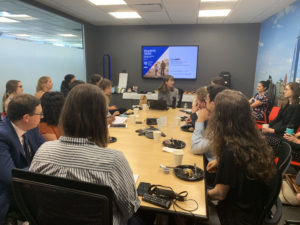 Membership:
Members of our Emerging Leaders Program are given access to our breakfast speaker series and cultivation events, in addition to all programming administered through the NYLCV Education Fund.
Membership is FREE! Sign up to become a member today here.
Events:
Breakfast Speaker Series: We host 3-4 breakfasts throughout the year to hear from prominent business, environmental and political leaders, and speak candidly about advancing environmental and economic sustainability throughout the state.
Past Speakers at our Breakfasts include:
Danny Harris, Executive Director of Transportation Alternatives
Melissa Iachan, Senior Supervising Counsel in the Environmental Justice Program at New York Lawyers for the Public Interest
Julia Eiferman, Senior Policy Advisor at NYC Mayor's Office of Resiliency
Bridget Anderson, 

Deputy Commissioner, 

NYC Department of Sanitation's Bureau of Recycling and Sustainability

Lindsey-Paige McCloy, Assistant Deputy Director for Strategic Initiatives, NYC Mayor's Office of Sustainability
Kate Boicourt, Director of Resilience, Waterfront Alliance
Chris Neidl, Director of Business Development at Brooklyn Solar Works
Alex Matthiessen, Founder and Director of Move NY Campaign
Kathryn Garcia, Commissioner of the NYC Department of Sanitation
Noreen Doyle, Executive VP of the Hudson River Park Trust
Tony Simone, Director of External Affairs at Friends of Hudson River Park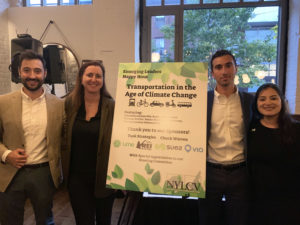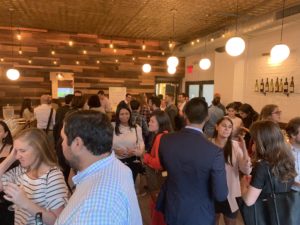 Happy Hour Events: Our most popular events every year are our signature happy hours! Around 100 Emerging Leaders gather to enjoy beer, wine, and hors d'oeuvres with future leaders of New York's environmental movement. Guests gather for an evening of mixing and mingling with a short speaking portion focused on the particular environmental policy/topic of the night.
Past Speakers at our Happy Hour Events include:
Assembly Member Khaleel Anderson, District 31
Assembly Member Nily Rozic, District 25
Tom Devito, Sr. Director of Advocacy, Transportation Alternatives
Former NYC Council Member Rafael Espinal Jr., 37th District
Ilana Judah, Principal, Director of Sustainability at FXCollaborative Architects LLP
Molly Hartman, Senior Advisor for Food Policy to Mayor de Blasio
Mark Chambers, Director of the NYC Mayor's Office of Sustainability
NYC Council Member Margaret Chin, 1st District
NYC Council Member Antonio Reynoso, 34th District
Steering Committee:
The Steering Committee guides the priorities of the NYLCV Emerging Leaders Program. Members of the committee are Emerging Leaders who are committed to the Program's mission to cultivate the next generation of environmental leaders.
Utilizing their professional expertise and networks, the Steering Committee works to grow the Program and provide opportunities for Emerging Leaders to learn about key environmental policy happening throughout the city and state.
To learn more about the Emerging Leaders program or getting involved with the Steering Committee, email chahn@nylcv.org or epoole@nylcv.org.