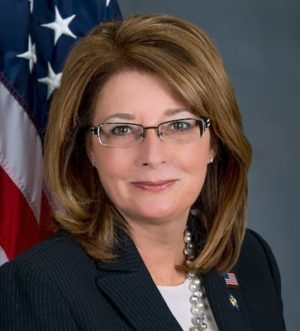 DISTRICT:

54

REGION:

Central New York

GOVERNMENT BODY:

New York State Senate

YEAR:

2018

CONTACT:

Campaign Website
Pamela Helming
State Senate
Although Senator Helming has only been in office for one legislative session, she has shown her dedication to advancing a pro-environment agenda and her aspirations for the future of her district and New York State at large.
Helming has been a staunch advocate for water infrastructure and resiliency, sponsoring a multitude of bills some of which would create a flood recovery and severe storm grant program, provide immediate emergency financial assistance for water infrastructure, and alter how state aid is distributed to districts for the conservation of soil and water resources. Helming has also helped to secure $85 million in flood relief and homeowners assistance on top of having led the fight to obtain $1.1 million in funding to improve water quality in communities across the Wayne-Finger Lakes region.
The Senator's efforts to improve the environment do not stop there as she is also devoted to the critical issue of food quality and security. Helming has introduced several programs including the "Farmland for a New Generation program" that establishes a statewide resource center for farmland transition and conservation and the farm disaster recovery grant program. Moreover, Helming has also sponsored legislation allowing local BOCES and municipalities to directly purchase New York State-produced foods which helps remove the costly and time-consuming requirement of submitting an application to the State Commissioner of General Services to make these purchases.
If re-elected, Helming will continue to champion these essential environmental issues and work to encourage the employment of clean energy sources and zero emissions vehicles.