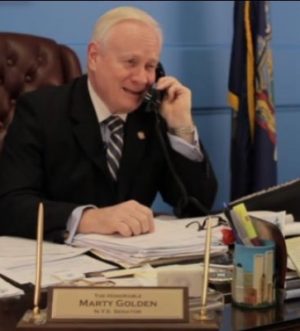 DISTRICT:

22

REGION:

New York City

GOVERNMENT BODY:

New York State Senate

YEAR:

2018

CONTACT:

Campaign Website
Martin J. Golden
State Senate
Elected to the State Senate in 2002, Martin J. Golden has been a consistent supporter of policies to protect the state's resources and its wilderness. He has continued to promote bicycle use and improved transportation infrastructure and efficiency and has previously fought to protect assets earmarked for the MTA.
In the past legislative session, he voted for pharmaceutical drug take-back programs, incentives for biofuel and geothermal energy systems, and guidance for schools to donate edible food. He sponsored S6326, which expands the use of hybrid and clean air taxis in New York City and oversaw its recent passage into law. In addition to supporting the protection of Suffolk County Farmland, he endorsed the allocation of $54 million in the 2019 budget for agriculture, including funding for the "Beginning Farmers" grant as well as programs that encourage the use of locally grown produce in schools.
Looking forward, Golden is looking to further reduce food waste through tax credits for large generators and encourage sustainable development throughout city streets.