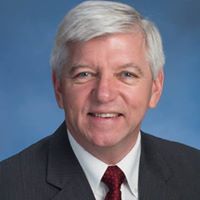 DISTRICT:

103

REGION:

Hudson Valley

GOVERNMENT BODY:

New York State Assembly

YEAR:

2018

CONTACT:

Campaign Website
Kevin A. Cahill
State Assembly
Kevin A. Cahill, an assemblymember for District 103 since 1992, has distinguished himself as a consistent advocate for strict toxin regulations, protection for clean air and water and conservation of natural resources.
He has been a particular champion for renewable energy, sponsoring a plethora of initiatives, from credits for solar manufacturers to increasing the installation of electric-vehicle charging stations. His legislation demonstrates his dedication to establishing the most efficient utility rate monitoring system in order to minimize the economic impact of switching to renewable energy, and his advocacy since 2015 for a state-wide carbon tax. Cahill has additionally been an active promoter of governmental accountability and buy-in, pressing the state to purchase alternative fuel vehicles and pressing for the governor's tax expenditure reporting to include an enumeration of fossil fuel related expenses. His New York Grid Modernization Act encourages resilience in communities and he sponsored the Green Jobs/Green New York Program, securing $112 million for its funding and supported efforts to pass the Regional Greenhouse Gas Initiative.
If re-elected, Cahill will continue his steadfast endeavors to make communities more biker and pedestrian friendly, bolster flood mitigation planning and coastal maintenance, and address food waste and insecurity through recycling and donation programs.