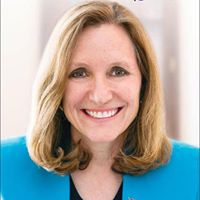 DISTRICT:

41

REGION:

Hudson Valley

GOVERNMENT BODY:

New York State Senate

YEAR:

2018

CONTACT:

Campaign Website
Karen S. Smythe
State Senate
Karen Smythe, seeking election for State Senate to represent the 41st District, has worked both in her community through the Beatrix Farrand Garden Association and from her professional position on a number of executive boards to spearhead many environmental initiatives.
Working as a trustee of Vassar College, she helped support the school's sustainability efforts, which included an agreement to purchase 15% of its electricity through community solar projects and goal of carbon neutrality by 2030. This ultimately earned the institution a Gold rating from the Association for the Advancement of Sustainability in Higher Education. She has additionally used this influence to be a voice for changes to the campus dining program, significantly reducing the quantity of food wasted. She has expressed commitments to further address food quality and insecurity by backing increased funding for school lunches and programs for working farmer assistance and farmland protection. Regarding other priorities if elected, Smythe sees the incorporation of green energy infrastructure as crucial, with high attention paid to building accessibility for low income communities, and is dedicated to opposing oil barges along the Hudson and protecting clean water among other natural resources.
Smythe's prime concerns match up with NYLCV issues and upon becoming a member of the State Senate, she would push for the disclosure of toxic chemicals, stricter regulations on hazardous waste and the full implementation of state-wide resiliency plans.