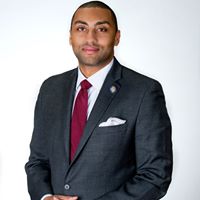 DISTRICT:

36

REGION:

New York City

GOVERNMENT BODY:

New York State Senate

YEAR:

2018

CONTACT:

Campaign Website
Jamaal T. Bailey
State Senate
Jamaal Bailey, representing the 36th district, was elected to the State Senate in 2016 and immediately established himself as an environmental advocate, dedicated to protecting New York State communities and conserving natural resources.
He has spearheaded efforts to address food waste, introducing pieces of legislation to direct studies on food waste initiatives, studies on ecological literacy and creating healthy living curriculum in schools, not to mention establishing healthy savings pilot programs and expanding access to fresh food. Furthermore, he has sponsored legislation to regulate toxic chemicals in children's products and supported lowering the definition of elevated blood lead levels. Bailey's voting record received a 94% on the 2017 NYLCV Environmental Scorecard.
Bailey has proven himself to be a strong voice in the Senate, highlighting the importance of adequate funding for preservation programs. He is committed to continue speaking to colleagues about the non-partisan issue that is the environment.