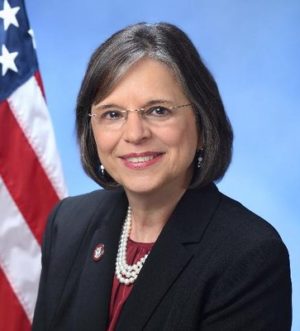 DISTRICT:

123

REGION:

Central New York

GOVERNMENT BODY:

New York State Assembly

YEAR:

2018

CONTACT:

Campaign Website
Donna Lupardo
State Assembly
Elected to represent State Assembly District 123 in 2004, Donna Lupardo has worked successfully to advocate for as well as advance New York's important environmental goals.
Lupardo received an 88% on NYLCV's 2017 State Environmental Scorecard and has continued to support necessary legislation. This past session she sponsored bills that help prevent exposure to trichloroethylene, ensure indoor air quality in buildings, and designate inland waterways, along with countless co-sponsorships. Her support has included promoting initiatives such as reimbursement for schools who purchase New York farm products, stronger regulation of toxic chemicals in children's products, and the incorporation of alternative energy sources when designing zoning and planning regulations.
Notably, in 2016 Lupardo authored what is now a law that requires school districts to conduct periodic testing of water systems for lead contamination. Lupardo also championed the State Green Building Construction Act which notifies tenants of environmental testing results.
Additionally, she has worked on numerous causes including municipal recycling, the defeat of a garbage burning incinerator in Broome County, and activism around TCE contamination in the Village of Endicott.
The Assemblywoman also helped to advocate for the inclusion of $2 million for a food waste diversion program in the final budget and funding for Clean Water Infrastructure, the Department of Environmental Conservation, the Office of Parks and Recreation, and the Department of Health.
If re-elected, Assemblywoman Lupardo will continue the valuable work that she has done advocating for the citizens of New York Stat