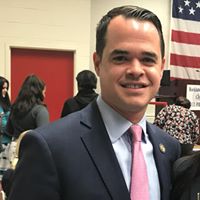 DISTRICT:

38

REGION:

Hudson Valley

GOVERNMENT BODY:

New York State Senate

YEAR:

2018

CONTACT:

Campaign Website
David Carlucci
State Senate
Elected to the State Senate in 2010, David Carlucci has shown a steadfast commitment to advancing a wide range of environmental policies, from halting hydrofracking in New York State to mandating studies on the safety of the state's water supplies and infrastructure.
Imposing stricter regulations on toxic chemicals has been a top priority of Carlucci's, sponsoring S378 and S4465, which relate to warning labels on holiday decorations containing lead, and co-sponsoring S1454-A and S6034, which monitor high concern chemicals in children's products as well as S6472, which lowers the threshold definition of elevated blood lead levels. He additionally voted in favor of improved collection, recycling and disposal of paint mandates and for pharmacies to implement drug-take back programs, all important for minimizing hazardous leakage from landfills. Furthermore, this past year Carlucci pressed for the establishment of clean air and water as a New York State Constitutional right. His advocacy and actions merited him a 100% on the 2017 NYLCV Environmental Scorecard, signifying his support of initiatives such as speed cameras in school zones and incentives for renewable energy sources.
Moving forward, Carlucci will continue working with local residents and fellow policy makers to encourage food donation and reduce waste, and to ensure that there are stringent restrictions in place to limit exposure to harmful substances.