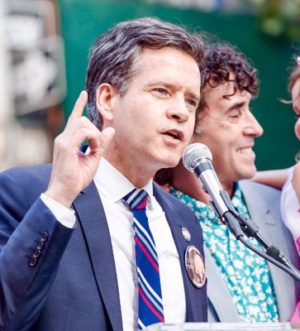 DISTRICT:

27

REGION:

New York City

GOVERNMENT BODY:

New York State Senate

YEAR:

2018

CONTACT:

Campaign Website
Brad Hoylman
State Senate
Brad Hoylman has held his seat in the State Senate as a representative of district 27 since 2012, maintaining a consistent commitment to protecting the health of the environment and New York State residents, with a focus on increasing education and awareness among fellow politicians and throughout communities.
As a member of the Committee on Environmental Conservation, he has voted on many important initiatives and been a champion in supporting a number of NYLCV priority bills, including the regulation of petroleum ships on the Hudson and lowering the threshold for elevated blood lead levels to better protect children. Such efforts earned him a 94% on NYLCV's 2017 Environmental Scorecard. Within the Senate, he has been a constant spokesman for proper use of Regional Greenhouse Gas Initiative funds to reduce statewide emissions and has taken the lead on programs such as the Climate and Community Protection Act, which sets benchmarks to reach clean energy climate goals.
In 2015, he hosted the Senate's first-ever legislative forum on human-induced climate change and within his community he has organized a series of "Conservation Conversation" events to discuss topics from monarch butterflies to plastic bags. If re-elected, Hoylman will continue to push for sustainable legislation, encouraging the proper management of toxic chemicals, a prohibition of hydrofracking waste and increased environmental resilience throughout the State.