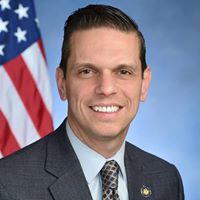 DISTRICT:

111

REGION:

Capital Region

GOVERNMENT BODY:

New York State Assembly

YEAR:

2018

CONTACT:

Campaign Website
Angelo Santabarbara
State Assembly
Since being elected to represent District 111 in the State Assembly in 2012, Angelo Santabarbara has supported and sponsored legislation that works to conserve and protect our environment. His efforts in the Assembly earned him a spot in NYLCV's 2013 New Generation List as one of the emerging leaders in conservation.
In 2017 Santabarbara received a 94% on NYLCV's State Environmental Scorecard and continues to vote for and spearhead environmental legislation. During this past session, Santabarbara sponsored several environmental bills that focused on clean water and infrastructure. He introduced legislation that establishes the emergency water infrastructure repairs fund (A01902), enacts the New York State Water Infrastructure Relief Act (A05824), and makes an appropriation to the environmental facilities corporation for emergency municipal drinking water, wastewater, and stormwater infrastructure grants (A05825).
Santabarbara has also focused on small entities as he has sponsored legislation that creates small business energy assistance and advocacy programs (A00188) and establishes the small farm disaster recovery grant program (A00191)
If re-elected, Santabarbara will build upon his environmental initiatives and protect the health of his community.