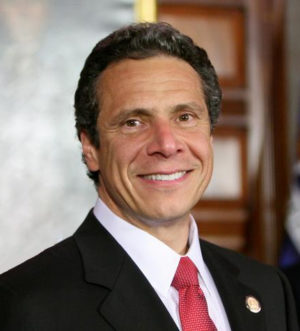 DISTRICT:

State Wide

REGION:

State Wide

GOVERNMENT BODY:

New York State Governor

YEAR:

2018

CONTACT:

Campaign Website
Andrew Cuomo
New York State Governor
Since being elected as the Governor of New York State in 2011, Andrew Cuomo's dedication on matters such as land conservation, environmental protection funding and investments in parks and historic sites has been consistent, but recently a more deliberate focus on renewable energy and clean air and water has emerged with the introduction of revamped, enterprising programs from his office.
Notable among these initiatives are the establishment of the Clean Energy Standard, which is the nation's-leading mandate for the state to procure 50% of its electricity from renewable energy sources by 2030, accompanied by a Master Plan to attain 2.4 gigawatts of offshore wind by 2030, enough to power 1.2 million NY households. He began the Green Future Fund to invest $10 billion across 5 years to stimulate investment in sustainable infrastructure and progress in the industry of clean technology.
In light of federal actions that have sought to undermine environmental regulations, Cuomo has seen for the reconvenement of the Scientific Advisory Committee on Climate Change and launched the U.S. Climate Alliance in 2017 with WA and CA, declaring that the member states will continue to meet or exceed the targets of the Paris Climate Agreement.
Seeking to reduce emissions and improve transportation and air quality, he dedicated $70 million for the Drive Clean rebate program which incentivizes the purchasing of electric vehicles and encourages municipal buy-in through construction, in conjunction with creating Charge NY (2.0), calling for an expansion of the statewide network of charging stations to increase their public availability. Further mobilizations against pollution have included implementing updates to the Regional Greenhouse Gas Initiative through addressing a loophole that left out small but highly polluting "peaking" power plants and expanding the RGGI influence to New Jersey with the potential addition of Virginia.
Toxin contamination and public health has also been a priority of Cuomo's administration. Efforts such as the 2016 landmark law requiring New York schools to perform lead tests in all faucets accelerated in the past two years, with the creation of the Drinking Water Quality Council, Statewide Water Quality Rapid Response Team, and $2.5 billion for the Clean Water Infrastructure Act to upgrade drinking and wastewater systems and create jobs.
Moving forward, Cuomo will maintain his attentiveness to providing access to clean water and green space, his financing of environmental justice grants such as the Environmental Justice and Just Transitions Working Group and his advocacy for policies that promote smart and green growth on every level.