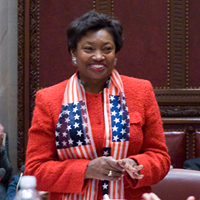 DISTRICT:

35

REGION:

Westchester

GOVERNMENT BODY:

New York State Senate

YEAR:

2018

CONTACT:

Campaign Website
Andrea Stewart-Cousins
State Senate
Andrea Stewart-Cousins has served in the State Senate since 2006 and as the Leader of the Senate Democratic Conference since 2012. Her promotion and advocacy of an environmentalist agenda has been consistent, supporting clean water infrastructure, the creation of landbank forest preserves, and stringent regulations for toxic chemicals.
Stewart-Cousins has overseen the funding of the Environmental Protection Agency, allowing for the implementation of crucial programs to address algal blooms as well as expand organic composting efforts that reduce food waste. She has worked to enumerate her Conference's priorities in the state budget, ensuring that finances are allocated for the Brownfield Redevelopment Program, State Superfund Program, investment into communities' water infrastructure. She has been a leader in the fight to preserve Regional Greenhouse Gas Initiative Funds for clean energy programs, defending against consistent motions to move them to the general fund. Her voting record demonstrates support for a wide-range of legislation, from the Farm to Food Bank Tax Credit, which reduces barriers for farmers to participate in emergency food programs and distribute their local fresh produce to pantries, to the State Smart Growth Public Infrastructure Policy, which aims to reduce car-dependence through more walkable, bikeable, transit-friendly street design and layout.
Looking forward, Stewart-Cousins will continue to spearhead efforts to ban hydrofracking, improve air quality, conserve resources, and invest in mass transit options statewide. She aims to mitigate environmental threats as they affect all communities and protect the health of New York's residents and ecosystems.