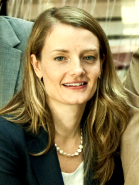 Neysa Pranger
Board Member, New York City
Ms. Pranger is a management consultant specializing in commercial and public sector strategy and currently serves as Director of Strategy Consulting at Intersection where she works with clients to resolve complex business and policy issues.  Before joining Intersection (formerly Control Group) Ms. Pranger served with IBM Global Business Services' Public Sector Strategy & Innovation Practice. She began consulting after a decade in transportation and urban planning working for government, private and philanthropic clients focused on improving the quality and delivery of public services and creating long-term economic opportunity for cities, states and regions in the U.S.
In her current role, Ms. Pranger serves in a variety of client-facing roles including collaborating to create citizen- and customer-centric models of service delivery, streamlining operations and improving business outcomes. At IBM she specialized in assessing transportation network maturity for state and local clients, developing cutting edge technology tools for city planners and working with the specialty practice in corporate site selection and economic development.
Prior to consulting, Ms. Pranger served as Director of Public Affairs for Regional Plan Association, the nation's oldest independent urban planning firm, where she specialized in bringing together diverse interests to achieve controversial or difficult-to-obtain public policy objectives. In this capacity, she worked on a wide range of public benefit areas, often involving infrastructure planning and financing, including NY Metro subway/commuter rail/bus expansion, high-speed rail, airport improvements, open space projects, seaport development, municipal and regional sustainability initiatives, zoning proposals and neighborhood redevelopment efforts.
Prior to urban planning, Ms. Pranger worked for the Straphangers Campaign, New York City's leading independent transportation research and advocacy group, where she managed staff members, coordinated research, led advocacy campaigns, devised communications strategies and modernized data collection techniques. In addition to her project-based work, Ms. Pranger is deeply familiar with New York City and State government processes and procedures and has extensive experience in government relations, communications and messaging.
Ms. Pranger serves on several non-profit boards, has received awards in recognition of her professional work and has written extensive commentary on the state of transportation investment. She received her BS in Biology from Calvin College in Grand Rapids, Michigan and an MBA in Corporate Finance and Strategy from New York University. She lives in Brooklyn, New York with her husband, Michael Ward.