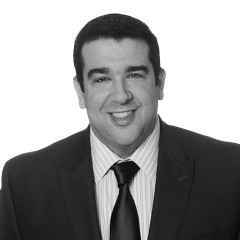 Jonathan Greenspun
Board Member, New York City
Jonathan Greenspun is a Managing Director and serves as Mercury's key contact for New York City public affairs. His core expertise focuses on New York City government relations, strategic communications, crisis communications, media relations and community grassroots organizing.
He has worked with some of New York City's most prestigious corporations and served clients in a variety of industries such as real estate, construction, zoning matters, healthcare, nonprofits, cultural organizations, technology, education and transportation.
In 2014, Mayor Bill de Blasio appointed Mr. Greenspun to serve on the New York City Human Rights Commission.
Appointed in 2001 as Commissioner of the Mayor's Community Affairs Unit (CAU), Mr. Greenspun brings in-depth knowledge of city government operations and how decisions get made. At the time of his appointment, Mr. Greenspun was the youngest Commissioner in Mayor Michael Bloomberg's administration and remains among the youngest commissioners in New York City history. Under his leadership, CAU played a pivotal role handling inter-agency coordination, planning and project management and was involved with many high profile citywide initiatives.
Prior to working for the City of New York, Mr. Greenspun spent seven years working for Governor George E. Pataki where he served as his Executive Assistant. Based in the Governor's New York City Executive Chamber, he was a member of the Governor's Office of Community Affairs. Part of Mr. Greenspun's responsibilities included the crafting and implementation of public policy, speech writing and providing various constituent services.
Mr. Greenspun's political work includes Michael Bloomberg's 2001 Mayoral campaign; Rick Lazio's 2000 Senate campaign; Al D'Amato's 1998 Senate campaign; and Governor Pataki's 1994 and 1998 Gubernatorial campaigns.
Mr. Greenspun has extensive communications skills, has appeared on CNN as well as many other New York City media outlets. The New York Times featured one of his quotes as "Quote of the Day." He is a regular panelist on the New York City political news program "Inside City Hall" where he discusses local, state and national politics.
Having been taught from a very early age on the importance of giving back to his community, Mr. Greenspun serves on a number of prestigious boards including: The New York City Chapter of the League of Conservation Voters; a member of the Executive Committee of the Jewish Community Relations Council of New York; past Board member of the Museum of Jewish Heritage – A Living Memorial to the Holocaust, the Jewish National Fund; and as President of his local Synagogue.
Born in Brooklyn, Jonathan and his wife Rosesara currently reside in Riverdale with their three children.