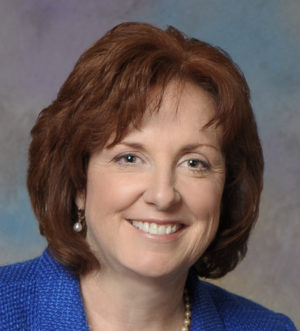 Denise Sheehan
Board Member, Capital Region
Denise Sheehan has more than 30 years of management experience in the government and non-profit sectors. She previously served for 10 years at the New York State Department of Environmental Conservation (NYS DEC) in senior management positions, including two years as Commissioner, where she led efforts to establish the nation's first cap-and-trade program for carbon emissions, known as the Regional Greenhouse Gas Initiative. Her work at NYS DEC included leading and managing a statewide staff of 3,500 environmental professionals, establishing new initiatives to protect air and water quality, preserve open space, and revitalize brownfields.
Ms. Sheehan is currently the Executive Vice President of Capitol Hill Management Services, an Albany-based management consulting firm specializing in services to non-profit organizations and associations. In that role, she manages the operations of the company and works with clients to ensure their success. Ms. Sheehan also serves as a Sr. Advisor to the New York Battery and Energy Storage Technology Consortium (NY-BEST) and leads the organization's policy and regulatory affairs efforts.
Ms. Sheehan's previous experience includes serving as the Executive Director of The Climate Registry, an international non-profit organization governed by environmental commissioners and ministers from the United States and Canada, dedicated to assisting companies in voluntarily reducing their carbon emissions and becoming more sustainable. She also worked for ten years at the NYS Division of the Budget, where she was responsible for developing and overseeing the State's environmental and energy budgets, funding and program performance.
She holds a Master of Public Administration from Rockefeller College of Public Affairs and Policy at the University at Albany and a Bachelor of Science in Economics and Political Science from the State University of New York College at Oneonta.
Ms. Sheehan is active in the community and serves as the Past Chair and current Board member of the American Red Cross Northeastern NY Chapter. She also serves as a Board member for the United Irish Societies of the Capital District. Ms. Sheehan is a recipient of the Distinguished Alumna Award from Rockefeller College and Excellence in Leadership Award from the NYS DEC.