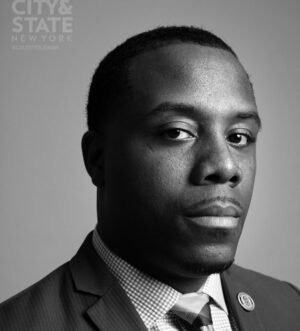 Davon Lomax
Board Member, Westchester
Davon Lomax was born in Queens, New York. A lifelong Queens resident, now residing in Yonkers, NY.
In 2005 Davon Lomax graduated Thomas Edison Vocational High School in Jamaica Queens. After studying electrical installation there for 3 years, entered Construction Skills 2000. A program design to train and educate high school students about the construction industry, and provide soft skills necessary when working on a job site. That program shaped Davon into a worker that would eventually be a valuable asset into his future as a union construction worker.
After finishing Construction Skills 2000, Davon was called by District Council 9 Painters & Allied Trades to enter their apprentice program. In the 4-year apprentice program Davon learned the value of working in large groups, taking direction, and leadership. He would eventually go on to become a shop steward, responsible for making sure workers are safe, and the job site runs smoothly. Davon also became a foreman.
Running job sites for painting, and wallpaper, while also teaching other apprentices their craft. In 2011 Davon was asked to become part of the District Council 9 leadership. There he would spend the next 3 years organizing painters, potential apprentices, and also working in communities with low income to try and get new opportunities, especially for the young people. Davon also got involved politically. Working with the Political Director. Davon was able to see how the ins and outs of the political world could help not only just the members of DC9, but to also bring that information to communities that need it the most.
In 2014 Davon was appointed to Political Director of District Council 9, where he still serves today. Working with the organizing department, Davon has been a tireless advocate across New York State for training facilities and workforce development centers to pull families into the middle class. He also helped create the first ever NYCHA Painter Apprentice program, giving NYCHA residents careers in painting. He also sits on the board for both Construction Skills 2000 where he got his start, Pathways to Apprenticeship, and Black Veterans for Social Justice.