The Emerging Leaders Program is a great opportunity to connect with other early to mid-career professionals who want to make a difference for New York's environment. Emerging Leaders at NYLCV enjoy events throughout the year, with opportunities to engage with other NYLCV members and discuss the environmental issues in New York that matter most to them.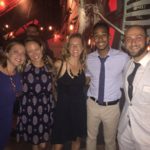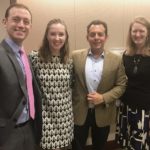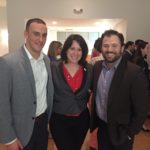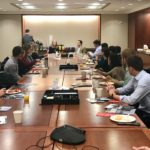 Membership:
NYLCV Emerging Leaders receive discounted tickets to our signature happy hour events, and invitations to our breakfast speaker series and cultivation events, in addition to exclusive pricing and invitations to a variety of NYLCV events, such as our signature Spring Gala, our New York City Cocktail Party, and more.
Membership is $50 for the year, and can be fulfilled with a contribution to NYLCV or by purchasing a ticket to one of our signature happy hour events. Become a member today!
Emerging leaders Events:
Breakfast Speaker Series: In 2016 we hosted our first Breakfast Speaker Series for our Emerging Leaders, with Noreen Doyle, Executive Vice President of the Hudson River Park Trust, and Tony Simone, Director of External Affairs at Friends of Hudson River Park. In 2017 we will hold Breakfasts in the spring and fall to hear from prominent business, environmental, and political leaders and speak candidly about advancing environmental sustainability throughout the state.
Happy Hour Events: Our most popular events every year are our two signature happy hour events. Emerging Leaders gather in the winter and summer to enjoy beer, wine and hors d'oeuvres with future leaders of New York's environmental movement. Guests to this event typically include board members, corporate supporters, politicians, activist and other Emerging Leaders.
In 2016, we were lucky enough to welcome City Council Member Margaret Chin at our February event, who discussed her work to place a fee on single-use plastic bags in New York City, and Council Member Antonio Reynoso at our August event, who discussed his role as Chair of the Sanitation Committee. We can't wait to replicate our success with these events in 2017!
Cultivation Events: We have a number of small cultivation events every year, to thank our Emerging Leaders for all their environmental efforts, and give them an opportunity to network with one another in an informal setting. Steering Committee members host between 15 and 20 NYLCV Emerging Leaders, for an evening of drinks, appetizers and networking with other early to mid-career environmental professionals.
Steering Committee:
Our Emerging Leaders Steering Committee is comprised of NYLCV and NYLCV Education Fund board members and supporters, who help guide the priorities of the Emerging Leaders Program. We're always looking to expand our Steering Committee to represent a diverse group of environmentalists from civic, business, and nonprofit backgrounds. The committee is the perfect opportunity for you or your organization to get involved in cultivating the next wave of environmental leaders who will make New York's future greener.
As a member of the Steering Committee, your name or the name of your organization will be listed on the invitation and you commit to raising $250 or bringing at least five people to each happy hour event throughout the year. Steering Committee members are also get exclusive access to our NYLCV Annual Board Meeting Reception, and more.
For more information about the Emerging Leaders program, contact Christina at cputz@nylcv.org.