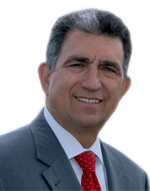 William Magnarelli
Assemblyman William Magnarelli is running for re-election, District 129
Assemblyman William Magnarelli has been a reliable supporter of pro-environmental legislation since he was first elected to represent the 129th District in 1998.
This session, Assemblyman Magnarelli advocated for the establishment of the New York State greenhouse gases management research and development program to promote new technologies and processes which will mitigate, avoid, or capture carbon dioxide and other greenhouse gases (A.1579). He sponsored bill A.8578 to require all political campaign mailing pieces to be labelled as recyclable and bill A.1146 to increase fines for throwing litter on the highways.
Additionally, as a member of the Central NY Regional Economic Development Council, he has supported efforts to develop a regional "sustainability plan" and promote environmentally beneficial projects for investment. Each budget year since 2012, he has circulated a sign-on letter in the Assembly to support additional funding for the Finger Lakes-Lake Ontario Watershed Protection Alliance (FLLOWPA) as well as supporting proper funding and staffing for the NYSDEC to properly enforce environmental laws and regulations.
Assemblyman Magnarelli is eager to continue advocating for progressive conservation policy to protect the health of New Yorkers and their state.