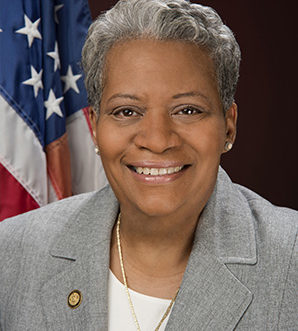 Tracey Edwards
Tracey Edwards is running for Huntington Town Supervisor
Note: NYLCV has jointly endorsed both Tracey Edwards and Chad Lupinacci for Huntington Supervisor.
A lifelong resident of Huntington, and a current member of the Huntington Town Board, Tracey Edwards is an unwavering environmental ally running for Supervisor in the Town of Huntington.
As a member of the Town Board, Edwards spearheaded the creation of the Huntington Opportunity Resource Center (HORC), which provides services to under and unemployed residents.  One of HORC's partnerships has been with United Way Long Island to create training programs focusing on energy efficiency and green construction.
Edwards has also focused on clean water protection, and was the lead sponsor on a resolution to ban the use of formaldehyde in marine water tanks. This legislation was ultimately enacted by Suffolk County. If elected, Edwards will continue to fight for water quality by requesting funding for a capital improvement plan to replace or upgrade sewer and septic systems under the New York State Drinking Water Act, and supporting Suffolk County's Reclaim out Water Septic Improvement Plan.
If elected as Town Supervisor, Tracey Edwards will push for green job training and water quality protection, both of which will improve the quality of life for the residents of Huntington.