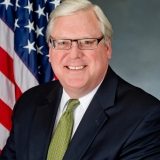 DISTRICT:

58

REGION:

Central New York

GOVERNMENT BODY:

New York State Senate

YEAR:

2016

CONTACT:

Campaign Website
Thomas O'Mara
Thomas O'Mara is running for New York State Senate in District 58
Recognizing the importance of environmental protection in a state like New York, Senator Thomas O'Mara has embraced his role as Chair of the Senate Committee on Environmental Conservation to champion a wide range of initiatives to conserve our natural areas, remove toxic chemicals from the environment, and protect clean water.
Senator O'Mara was the primary sponsor of the Safe School Water Act, the first comprehensive legislation in the county to require school districts to test school water for lead contamination. He was a key player in the coalition that worked on developing the bill and shepherding it toward its eventual passage at the end of last session. The bill was signed into law by Governor Cuomo last week, just in time for the start of the school year. Senator O'Mara also helped to establish the New York State Water Infrastructure Improvement Act of 2016, as well as the extension of the Clean Water State Revolving Fund.
Following years of hard work and effort by so many conservation advocates and others, Senator O'Mara helped to achieve a fully-funded, $300-million Environmental Protection Fund (EPF) to support critical environmental initiatives including clean air and water projects, flood control and restoration, and open space preservation.  He has also been a strong advocate for protecting our farmland from development so our local farmers can continue to supply fresh food. Also part of this year's historic environmental budget was a $200 million increase for the Water Infrastructure Improvement Act, which helps localities with municipal sewer and water line improvements.
Additionally, Senator O'Mara has been a leader on protecting New Yorkers and our environment from toxics. He sponsored legislation regarding the recycling of lead-acid batteries and the use of microbeads in personal care products. He also worked hard to pass his bill to create a statewide recycling program for paint. The industry-supported Paint Stewardship Program will lead to a reduced burden on localities, create a convenient recycling opportunities, reduce improper disposal, and result in less waste.
O'Mara is committed to helping build the coalitions and bipartisan support necessary to address the many environmental challenges we face as a State and will continue to do so if re-elected to the State Senate.