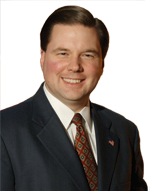 Thomas McKevitt
Assemblyman Thomas McKevitt is running for re-election, District 17
Assemblyman McKevitt is committed to providing New Yorkers with alternative clean fuel and eliminating greenhouse gases in our atmosphere. Since his election in 2005, he has shown, through countless pieces of legislation, that he is not only committed, but also impactful.
One environmentally conscious initiative that McKevitt is particularly passionate about is the use of biofuel–a green alternative to fossil fuels. During this year's Assembly session, McKevitt has been the sponsor of legislation to increase education on biofuel and to promote its use to the community (A.4181). He has also sponsored legislation to create a biofuel/biodiesel task force (A.4933). Additionally, he has supported and voted in favor of a bill that would require all heating fuel in New York State to contain at least 2% biofuel (A.6070). He has also co-sponsored legislation to prevent the production and emanation of greenhouse gases through the creation of a task force (A.2378).
If re-elected to State Assembly, Assemblyman McKevitt will bring bipartisan action to important and serious issues facing our environment.