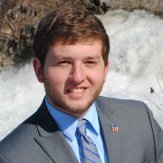 DISTRICT:

146

REGION:

Western New York

GOVERNMENT BODY:

New York State Assembly

YEAR:

2016

CONTACT:

Campaign Website
Steven Meyer
Steve Meyer is a promising candidate running for Assembly District 146 with a passion for environmental conservation and protection.
In tandem with the Pendleton Action Team and other local environmental groups, Meyer has been creating walk-plans, letter-writing meetings, and phone banks in order to fight against a compressor station that would process fracked gas from the Northern Access Project propositioned to be built in his district.  Not only is he not afraid to challenge measures he sees as detrimental or unjust, but he understands the complex and often interconnected issues that threaten the health of New York's environment as well as the health of New Yorker's and will fight for fully funded environmental agencies, investments in more efficient infrastructure, reliable rapid public transit systems, and regulations of harmful chemicals in consumer products in the Assembly.
As an Assemblymember, Steve Meyer will work to expand conservation and protection efforts to ensure that New York's environment remains a place of curiosity and beauty for generations to come.