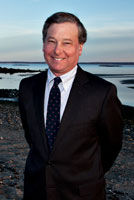 Steve Otis
Steve Otis is running for re-election to the New York State Assembly, District 91
Assemblyman Steve Otis has made great strides in employing and funding environmental initiatives since being elected to represent District 91 in 2012.
Otis is no stranger of seeing environmental projects through from inception to implementation.  He played a chief role in helping to create the Water Infrastructure Improvement Act of 2015—a new grant program that will provide $425 million in new environmental funding to support clean water infrastructure projects.  Additionally, as Mayor of the City of Rye for over ten years, Otis implemented numerous projects that acquired open space, protected wetlands and improved parks in the City.
Currently serving as Chair of the Legislative Commission on Solid Waste Management and on the Environmental Conservation Committee and Climate Change Work Group, Assemblyman Otis has proven to be active supporter of environmental initiatives.  This legislative session, he sponsored a bill to establish a green building credit for new or refurbished properties to conform to certain energy efficiency standards (A06420).  He also passed a few bills relegating authority to the DEC to manage specific aquatic wildlife such as scallops, Atlantic herring and oysters (A07862; A08045; A10114).
Re-electing an ally like Otis to the State Assembly is instrumental in moving New York towards a greener, more sustainable future.