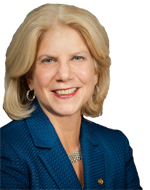 Shelley Mayer
Assemblywoman Shelley Mayer is running for re-election, District 90
Assemblywoman Mayer was elected to State Assembly in 2012. Since then, she has shown her commitment to advancing a pro-environment agenda through her support and her legislation.
Mayer supports the ban on natural gas fracking, and within her community has been supportive of efforts to maintain green spaces and expand bike access. She has also worked to reduce the use of herbicides and pesticides on state roads. Mayer sees the effects that climate change has had on persistent flooding, and has used legislation to combat this issue. She created a flood mitigation and flood prevention task force (A.1345), and has enacted the New York State Flood Mitigation Grant Act, appropriating $10,000,000 for it (A.1874).
Mayer has also been a strong advocate for public transportation, working closely with local, regional and statewide advocates to increase investment in smart growth and comprehensive transportation alternatives. 

If re-elected to State Assembly, Mayer will continue to advocate for those in her district, and the entire New York State.