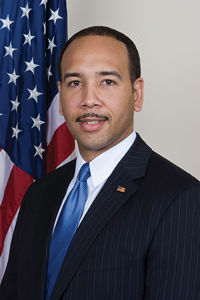 Ruben Diaz Jr.
Ruben Diaz Jr. is running for re-election as Bronx Borough President.
From the time Ruben Diaz entered office in 2009, he has made large strides in advancing the environmental initiatives in his borough, and has been very successful in introducing green programs and technology.
Since 2009, Diaz has shown his passion for creating clean and safe open spaces. He allocated over $52 million to improve and maintain Bronx parks, specifically seeing $1 million go to critical capital funding at Playground 52 in South Bronx, while also working with Bronx Youth Corps to beautify Latinos Unidos Community Garden. Furthering his commitment to bettering open space, Diaz has created the special Special Harlem River Waterfront District in order to improve access to both the Bronx River and Harlem River. In regards to implementing sustainable green technology, Diaz has funded projects to upgrade technology in borough schools and to bring green roofs and boiler upgrades.
If re-elected, Diaz will ensure progress in pro-environment legislation, especially in his focus areas which include expanding open space and waterfront access, and implementing sustainable technology.