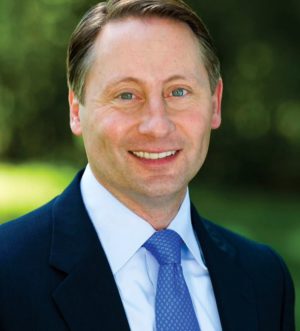 Rob Astorino
Rob Astorino is running to be re-elected as Westchester County Executive
Note: NYLCV has jointly endorsed both Rob Astorino and George Latimer for Westchester County Executive.
A lifelong resident of Westchester County, Executive Rob Astorino has led the effort in establishing the County as a sustainable, resilient and environmentally friendly community since taking office in 2009.
County Executive Astorino has championed numerous environmental initiatives, including switching the county's vehicle fleet to hybrid and alternative-fuel vehicles, flood mitigation projects that clean debris and garbage from County rivers, expanded recycling to include plastics #3-7 and providing tax credits to homeowners who retrofit their homes with solar panels. He has encouraged the use of electric vehicles (EVs) throughout the County by investing in EV charging infrastructure, upgraded public transportation on Westchester County's Bee-Line, and made roads more accessible to bicyclists and pedestrians by signing a Complete Streets law, among many others.
In 2015, Astorino created the Westchester County Office of Energy Conservation—- a body that is responsible for implementing and administering County sustainability, utility management and energy policies as it relates to green purchasing, energy conservation, solid waste recycling, green buildings, resource and water conservation, greenhouse gas reduction and leveraging of renewable power resources. He also led the effort in joining Sustainable Westchester, where over 40 municipalities in the County have committed to sharing ideas and resources to promote environmental stewardship and energy efficiency projects among municipal partners, residents and businesses.
County Executive Astorino's innumerable achievements serve as an example for other municipalities in the state to follow in the promotion of environmental stewardship, smart growth, and sustainable development. If re-elected, Rob Astorino will surely deepen and expand upon these remarkable efforts.