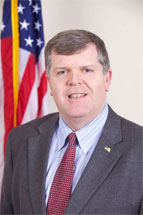 Richard Schaffer
Richard Schaffer is running for Babylon Town Supervisor
Since his election in 2012, Richard Schaffer has been a leading advocate for environmental initiatives and legislation.
Richard Schaffer has shown his support for NYLCV priorities by initiating programs in a range of environmental legislation. Schaffer has enacted licensing for solar installation companies and has streamlined the permit process in an effort to endorse the implementation of more solar energy. He also fully funded Long Island Green Homes, an energy efficiency program in his district. Richard Schaffer is also passionate about resiliency and sustainability in his district as he fully endorses the GOSR Sandy resiliency project, which incorporates shoreline restoration, drainage improvements, stream restoration at Carlls River, and infrastructure improvements like American Venice Bridges.
If re-elected, Richard Schaffer will continue to be an advocate for introducing green legislation to his community.