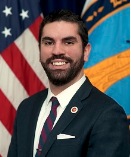 Rafael Espinal
Rafael is running for New York City Council, District 37
Understanding that is up to local elected officials to take action in protecting New York City's environment, Rafael Espinal, representing District 37 in the City Council, has focused on policy to green the City since being elected in 2013.
Espinal has worked to reduce waste in the City by sponsoring legislation to require the Department of Sanitation to create and maintain a website allowing food donors to post notifications concerning the availability of food, including food that would otherwise go to waste (intro 1514-2017), and legislation to allow the City to collect electronic waste for recycling and administer penalties for electronic waste littering (Res 0910-2015; Intro 0895-2015).  The Councilman has also supported the incorporation of renewable energy into the City's grid by sponsoring a bill to require the Office of Long-Term Planning and Sustainability to issue a report on the feasibility of developing microgrids in New York City (Intro 1567-2017) and a bill to require that the roofs of new commercial buildings be partially covered by plants or solar panels (1230-2016).
Moving forward, the Councilman will remain committed to addressing local environmental issues if re-elected to represent District 37.