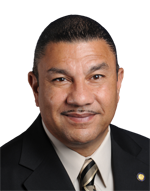 Phil R. Ramos
Assemblyman Phil R. Ramos is running for re-election in District 6
As a former EMT, police officer, and detective, safety is of the utmost importance to Assemblyman Ramos. This is why since his election to the State Assembly in 2002, Ramos has consistently supported measures that improve our environment and protect New Yorkers' health.
This Assembly session, Ramos has co-sponsored legislation requiring schools to replace light fixtures containing PCBs which have been found to cause cancer and immune deficiencies. He also helped pass legislation that would restrict the use of dangerous chemicals in products meant for children.
In addition to legislation that he has sponsored, Ramos has supported dozens of pieces of environmental legislation. He supported a bill aimed at reducing pesticides use at children's summer camps, as well as a bill to establish a limit on greenhouse gas emissions known to cause climate change.
If he is re-elected, Assemblyman Ramos will continue to support vital environmental legislation and protect the well being of New Yorkers and the environment.