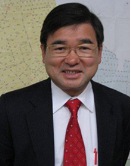 Peter Koo
Peter is running for New York City Council, District 20
Since his election in 2009, Peter Koo has committed himself to cleaning up our environment. When it comes to issues from cleaning up Flushing Creek to building more energy efficient buildings, Koo has been effective and dependable.
As a medical professional by training, healthcare is very important to Councilmember Koo. Therefore he has fought hard to protect our air and water quality, advocating for an additional CSO tank and green infrastructure in Flushing Creek and partnering with nonprofits to host anti-smoking seminars. He has also sponsored important legislation, such as "Recycling Carpeting" (Intro 201) which would require recycling or reusing discarded carpeting from commercial units or buildings.
If re-elected, Koo can be counted on to continue his work in these areas. In his next term he plans to address transportation issues and hopes to utilize the waterways to get around the city.