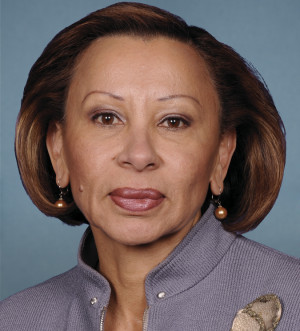 Nydia Velázquez
Candidate Nydia Velázquez is running for re-election in Congressional District 7
Recognizing the overwhelming crossover between environmental degradation and public health, Nydia Velázquez, who has been serving in Congress since 1992, has maintained a strong voice and voting record in support of local and federal environmental initiatives.
Velázquez has successfully worked to bring Superfund designation to various sites throughout New York– the Gowanus Canal, Newtown Creek and the Wolff-Alport Chemical Company– which allowed for federal resources to be allocated in order to remediate these areas.
In addition to opposing the fast tract authorization for the Trans-Pacific Partnership trade deal, the Congresswoman opposes the Keystone XL Pipeline and has co-sponsored legislation seeking to regulate or ban hydrofracking (H.R. 1460 or the FRESHER Act of 2015 and H.R. 1902 or the Protect Our Public Lands Act).  Velázquez has also co-sponsored various pieces of legislation regarding the preservation of national lands (H.R. 2430 or America's Red Rock Wilderness Act; H.R. 996 or the Northern Rockies Ecosystem Protection Act and H.R. 239 or the Udall-Eisenhower Arctic Wilderness Act), the encouragement of water efficiency (H.R. 3720 or the Water Advanced Technologies for Efficient Resource Use Act of 2015) and the capping of carbon emissions (H.R. 1027 or the Healthy Climate and Family Security Act of 2015).
Velázquez intends to remain committed to prioritizing important environmental issues if re-elected.