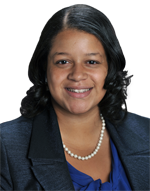 Michaelle Solages
Assemblywoman Michaelle Solage is running for re-election, District 22
Assemblywoman Michaelle Solages has been a tireless supporter for policies that protect the health and wellbeing of children and families ever since being elected to District 22 of the New York State Assembly in 2012.
As Chair of the Subcommittee on Child Product Safety, Solages works to ensure that products used by children in New York meet the highest standards of safety.
She is currently the co-sponsor of legislation (A09230A) that would enact the Triclosan Awareness Act— an act that would prohibit cleaning products containing triclosan or any derivative of it from being sold in the state.  In addition to her commitment to protecting New Yorker's from exposure to harmful chemicals, Solages is an advocate for clean water initiatives as the co-sponsor of legislation that would create a program to maintain and repair water systems as well as legislation that seeks to help fund the monitoring of lead levels in school drinking water (A09651A; A09687).
The re-election of Assemblywoman Solages would guarantee the continued support for safe, smart growth initiatives without safety being compromised in the process.