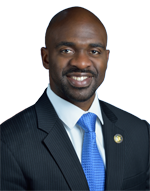 Michael Blake
Assemblyman Michael Blake is running for re-election, District 79
The health and quality of life of New Yorkers, especially those in the Bronx, is a top priority for Assemblyman Blake. Since his election to State Assembly in 2014, Blake has co-sponsored mass amounts of legislature to protect the health of his constituents, and to allow them to live longer and more prosperous lives.
During this Assembly session, Blake was the sponsor of landmark legislation aimed at establishing a 100% renewable energy system by 2030 with zero net greenhouse gas emissions (A.7497B). He also co-sponsored a number of important pieces of legislation that both help the environment, and New Yorkers. One piece of legislation would accelerate the repair of petroleum pipelines that are leaking or at risk of leaking, preventing oil spills (A.2547). Another piece of legislation Blake co-sponsored provides practical vocational training for inmates and inexpensive environmentally sustainable hot water in prison living units—allowing prisons to become more environmentally conscious.
Assemblyman Blake also works with Solar One, the education arm of the Department of Environmental Conservation, to educate his constituents on the benefits and uses of ENERGY STAR appliances. He also supports MoveNY, which would allow New York City to rebuild infrastructure, update buses and subway lines, and ultimately create a greener New York.
If re-elected to State Assembly, there is no doubt that Blake will continue to push for important and impactful legislature to better the lives of all New Yorkers.