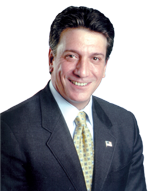 Matthew Titone
Assemblyman Matthew Titone is running for re-election, District 61
As a member of the Committee on Environmental Conservation, the Committee on Health, and the Subcommittee on Oversight of the Department of Environmental Conservation, Titone is in an ideal spot to make impactful environmental legislation. Since his election to State Assembly in 2007, he has done just that.
Titone sponsored legislation to bring food retail stores to underserved communities, to require a study of genetically modified organisms and cross pollination, the impact on wildlife, and the effect on human consumption; requiring reporting and recommendations by department of agriculture and markets, DEC, and department of health. He also sponsored a bill to extend the restrictions placed on toxic toys for children to apply to pet products.
He also co-sponsored bills aimed at making shared solar energy sources more accessible, and another bill which created the New York State Climate and Community Protection Act, requiring state-funded projects to consider climate change effects and legislation which ensures environmental justice.
If re-elected to State Assembly, Titone will continue to advocate for environmental issues impacting New Yorkers, and will ensure that their health and well-being is protected.