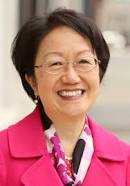 Margaret Chin
Margaret Chin is running for New York City Council, District 1
Margaret Chin has been consistent in her support of environmental legislation since her election in 2009 with a 100% on the NYLCV  scorecard for several years in a row.
Chin sponsored the "Plastic Bag Bill" (Intro 209) which places a five-cent fee on single use bags at retail, convenience and grocery stores and significantly reduces the amount of plastic in the wastestream. She also sponsored "Right of Way for Pedestrians" (Intro 997) which provides the right of way to pedestrians crossing from a median when a numerical countdown clock has already begun to count down. She has also worked to improve our air quality and fight against asthma-causing pollutants and mold. Chin is an advocate for legislation that improves both quality of life and our environment.
If re-elected, Chin will build upon the environmental issues she has tackled such as solid waste and air quality, and will look to improve other issues as well, such as public transportation and green infrastructure.